03-10-2021, 03:20 AM

Welcome to the topic of New Product,
Troll X RTA
by Wotofo, 24mm RTA with Advanced Inflow Air Diffusion
Wotofo The Troll X RTA
holds 3.0ml / 4.4ml capacity with top filling system in 24mm diameter.
Wotofo
Troll X RTA adopts a flexible air control with Triangular Air Balancing System for smooth, controllable, and high quality air supply. To make the inflow air travel in a more intended way in the vaporizing chamber, Wotofo The Troll X RTA adopts an airflow insert that diffuses the air through its specially designed slots and surrounds the coils with streamed airflow evenly to enhance the flavor production. The Troll X RTA features a postless build deck and comes with two airflow inserts by simply switch operation, honeycomb dot and slim groove, for soft smooth and vigorous chunky airflow respectively.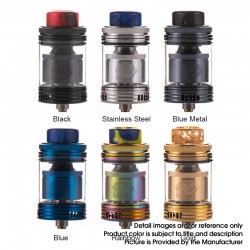 More details about Wotofo Troll X
RTA
, Please Check >>
https://www.3fvape.com/48421-wotofo-the-troll-x-rta.html