12-20-2019, 05:48 AM
Hey guys, have you ever thought that a vape device can be served as both a pod mod and a regular mod? Now
Wismec R80 Kit
makes this possible. With one R80 in hand, versatility has no limits. Wismec shocked everyone with this new product! Let's look at the details now.
Inspired by the Reuleaux, the R80 utilizes a unique triangle shape for comfortable feel. Thanks to the portable size, it can be a great company no matter where you go. Thoughtful in design, it has a cover cap on the top to effectively prevent leaks and dust. Unlike the conventional pod mod, R80 is innovatively adopts a single replaceable 18650 battery, providing a maximum power output of 80W and longer lasting. With the brand-new USB-C port, charging is faster than ever. In addition, there is no need to worry about the direction when plugging in the USB-C cable.
This is the first time that
Wismec
has applied 0.96 inch TFT screen to a mod pod, the variable display colors is also a great advantage of the R80, making it stand out from other vape devices. One of the main attractions of the R80 is the user-friendly way of opening the battery cover. By rotating the buckle, you can replace the 18650 battery quickly and easily. Interestingly, there is a slot in the center of the battery cover for coin insertion, so you can also unscrew the battery cover with a coin.
The 4ml large-capacity refillable cartridge is another highlight of R80. The whole cartridge is transparent and visible, you can notice the remaining level of e-liquid anytime, anywhere. It comes with interchangeable coils, including KTR mesh 0.3ohm coil and NiCr 0.8ohm coil, bringing you huge vapor cloud and optimal flavor. Moreover, with the ingeniously designed adjustable bottom airflow system, you can get different vaping experiences by simply rotating the airflow control ring. The real surprise comes from the fact that R80 is compatible with regular
atomizers
with the help of the 510 adapter, so the cartridge can be removed and replaced with a regular tank.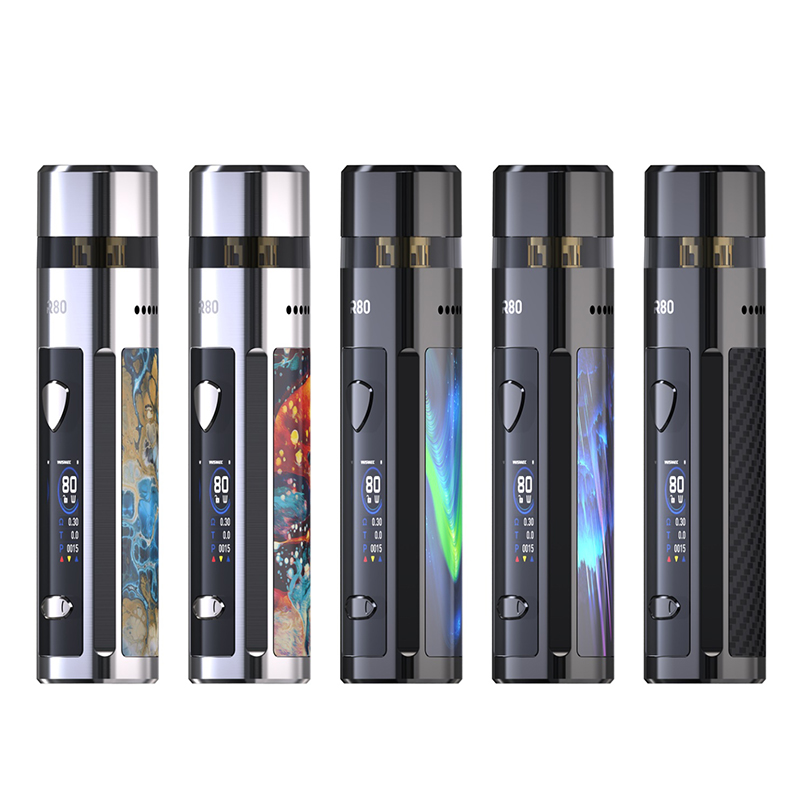 Parameters:
Size: 116.2 × 32 × 31.5mm
Weight: 111g
Battery Type: High-rate 18650 battery (discharging current should be above 25A)
E-liquid Capacity: 4ml
Resistance: 0.3ohm Mesh coil and 0.8ohm Nicr coil
Charging Port: Type-C
Maximum Charging Current: 2A
Maximum Output Wattage: 80W
More information you can see
https://vapesourcing.com/wismec-r80-kit.html
You may also like:
smok g-priv 3 indonesia