12-27-2019, 07:50 AM
Hi, guys! Welcome to New Product Introduction! I have a question: do you need a
Pod Kit
at present? Today let me introduce you one pod kit named
SMOKTech SMOK RPM40 40W 1500mAh VW Pod Kit
. Now let's take a closer look at the pod kit below.
The SMOKTech SMOK RPM40 Pod Mod Kit is an ultra-portable pod mod that shapes like a cuboid and is covered with glossy finish and characteristic material, making the whole device look fancy and stylish. It is small in size but has a battery capacity of 1500mAh which can ensure enough running time and help you avoid frequent charging, and a power range from 1W to 40W for you to adjust, and you can press the UP / DOWN button to get your preferred power. The internal IQ-R chip is a new one, which can shorten the firing time to 0.001S, and charging time to two hours. Different from normal tiny and slim pod devices, RPM40 is designed with a 0.96 inches screen, with which, detailed vaping data is clearly presented, like the wattage, resistance, voltage, screen color, puff number, and battery level. Besides, the newly designed RPM Mesh 0.4ohm Coil and Nord DC 0.6ohm Coil are designed for the best flavor and excellent vapor production.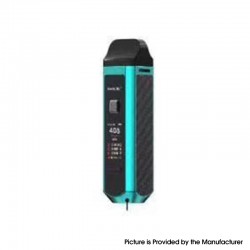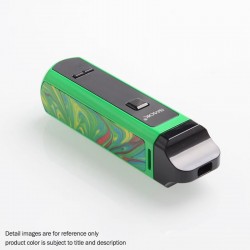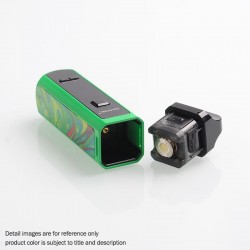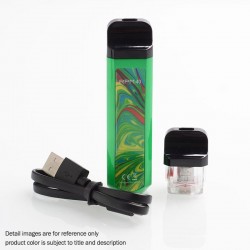 Main Features:
Size: 24 x 24 x 99mm
Battery Capacity: 1500mAh
Standby Current: < 140uA
E-liquid Capacity: 5ml(Empty pod) / 4.3ml(Standard Pod) / 4.5ml(Nord Pod)
Firing Time: 0.001S
Output Mode: Watt
Input Voltage: 3.3V~4.2V
Output Voltage: 0.5V~4.1V
Output Wattage: 1W~40W
Charging Current: 0.88A (Max)
Charging Voltage: 5V
Resistance Range: 0.2ohm~2.50ohm
Overcharge Voltage: 4.3V
Over-discharge Voltage: 2.4V
Modern and stylish appearance, smooth surface and portable
Built-in 1500mAh battery provides sufficient power for the RPM40
The RPM40's wider mouthpiece allows more air inhalation
Classic box mod to fully enjoy the steam process and huge vapor
Max output power for 40W
0.96 inch TFT screen
More coil options for RPM pod and large e-liquid capacity
Multiple protections for a better vaping experience
There are eight colors for you to choose, so which color is your favourite? If you want to get one, you can come here:
SMOKTech SMOK RPM40 40W 1500mAh VW Pod Kit >>>
Replacement Mesh Coil maybe you need:
Original Sense Replacement Mesh Coil Head for Herakles Pod Mod Kit / SMOK RPM Pod Vape Kit(5 PCS) >>>
Replacement Pod Cartridge maybe you need:
Original Sense Replacement Pod Cartridge with 0.4ohm Coils >>>
Mechlyfe Replacement RPM RBA Coil for SMOK RPM40 Pod System Kit maybe you need:
Original Mechlyfe Replacement RPM RBA Coil Head >>>
HippoVape VSS RBA Coil Kit V3 for SMOK RPM40 Pod System Kit maybe you need:
Original HippoVape VSS RBA Rebuildable Coil Kit V3 >>>
-------------------
3FVape "Christmas + New Year's Day " Sale Information
Date: 23 Dec 2019 00:00 - 1 Jan 2020 23:59 (UTC-6 / Denver Time)
Offer: Site-wide 5% off
Code: XMAS2019
Note: This offer is not stackable with other MAP discounts.