05-04-2020, 06:19 AM
Hello everyone.
Good news!
The
Original Hellvape Destiny RTA
is in stock now on 3FVAPE.
Let's check the photo:
Features:
510 threading connction;
24 mm (D) by 38.9 mm(H) without drip tip (44.9mm with drip tip)
Single coil configuration
Generous build space and post holes
Smart angled post design for coil installation and cutting coil legs more easily
Two sides airflow system concentrating to the coil
Adjustable bottom airflow with angle
Knurled grip to adjust the airflow with ease
2ml or 4ml e-juice capacity with optional bubble glass tube
Package of Standard Edition and TPD Edition: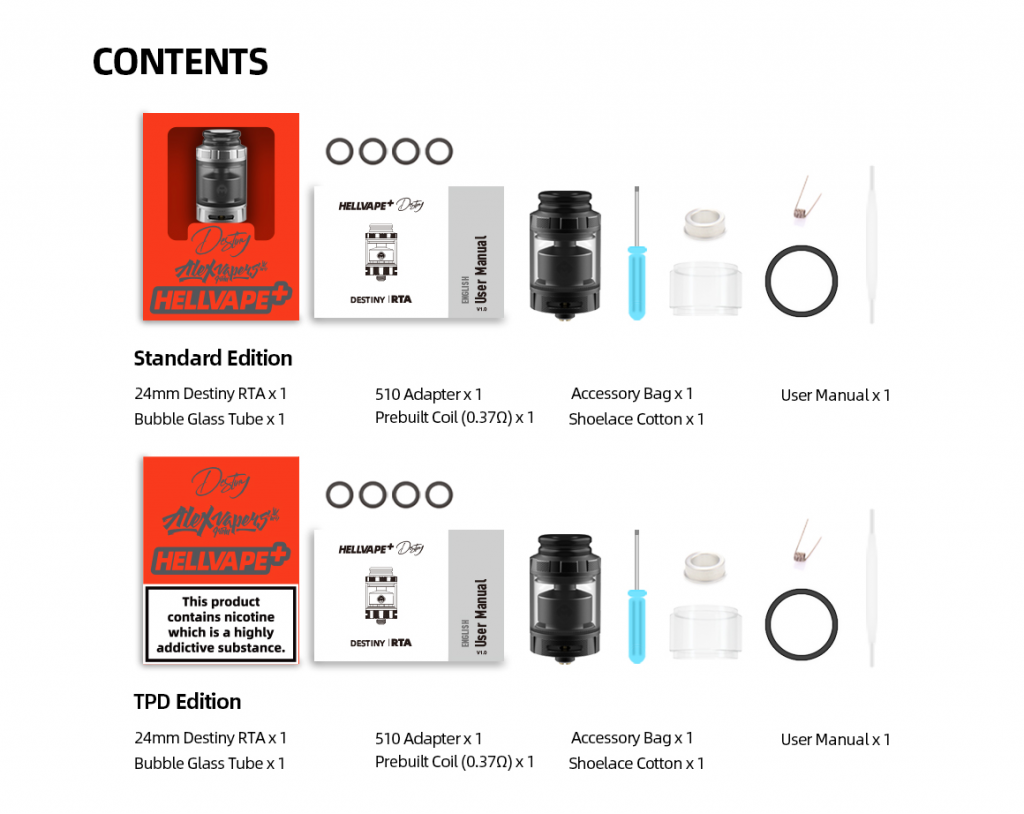 We can ship these items in 24hrs after payment confirmed on business day.
Click here, order it immediately on 3FVAPE:
Original Hellvape Destiny RTA >>>
PEI & PCTG Straight Tank Tube:
Original Hellvape Destiny RTA Replacement Straight Tank Tube - 2ml Brown PEI >>>
Original Hellvape Destiny RTA Replacement Straight Tank Tube - Translucent Black, PCTG, 2ml >>>
Replacement 810 Drip Tip:
Original Hellvape Destiny RTA Tank Vape Atomizer Replacement 810 Drip Tip >>>
Mechanical Mod you would like:
3FVAPE - Mechanical Mod >>>
-------------------
Tips For Self-Protection From Covid-19 >>>
Hygiene products for anti Covid-19 >>>