12-28-2019, 05:26 AM
Hey guys, are you looking for a new vape pen kit? Voopoo recently demonstrated two such devices -
Voopoo PnP 22/20 Pen Kit
. They come in all-in-one slim pen-style form, perfectly mix the compactness and delicacy with the advantages of extensive compatibility with PnP series coils. In addition, the function of intelligent coil identification and automatic power match makes them the most reliable devices for new players.
Considering the practicability and aesthetics, they adopt a neat design with only one fire button for easy use, and are made of aluminum alloy to create a refined and lightweight body. They utilize easy top filling system combined with middle adjustable airflow design to bring you much convenience, and multiple protections are packed to guarantee a safe vaping environment. From the appearance point of view, there is no difference between the two except the size, now let's take a closer look at them.
First, introduce the Voopoo PnP 22
AIO vape kit
. It is powered by a built-in 2000mAh battery, delivers long lasting endurance with a maximum power output of 50W. With the support of 5V/1A quick charge, it can be fully charged within two hours. PnP 22 comes pre-installed with PnP-VM1 0.3ohm mesh coil, also matches with PnP coils, so everyone can find your own taste with it.
Next is the Voopoo PnP 20 AIO Kit, which features a more compact body than PnP 22. It is powered by a built-in 1500mAh battery with a maximum power output of 40W, and can be fully charged within 1.5 hours, ensures long time blowing without downtime. PnP comes pre-installed with PnP-VM3 0.45ohm mesh coil, also compatible with PnP coils except PnP-VM1 and PnP-RBA, satisfying more flavor needs.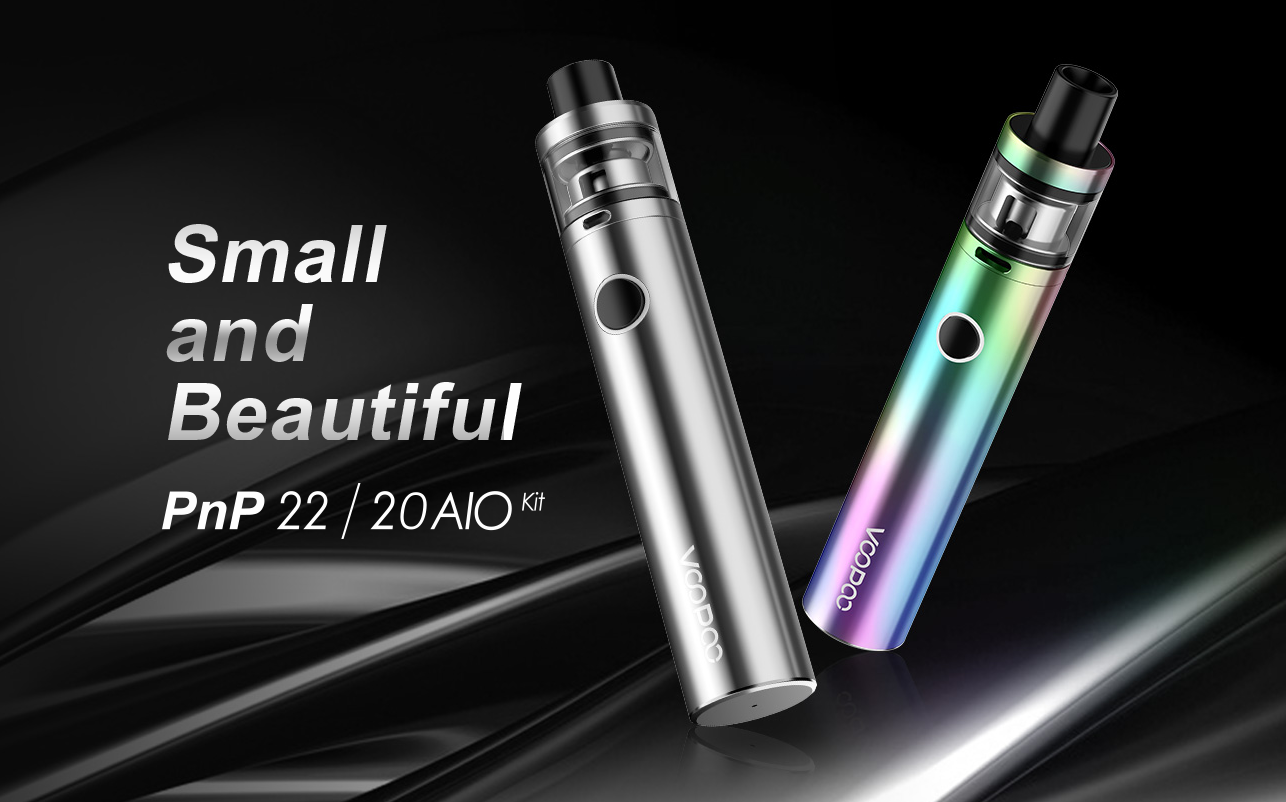 Parameters:
Voopoo PnP 22 Kit
Size: 22.5 × 122 (±0.5)mm
Material: Stainless Steel
Output Power: 6~50W
Output Voltage: 3.2~4.2V
Battery: Built-in 2000mAh
Capacity: 2ml
Resistance Range: 0.15~3.0Ω
Coils: Pre-installed PnP-VM1 0.3ohm mesh coil (power range: 32~40W, suggested e-liquid: nicotine≤10mg, suitable for PnP coils)
Voopoo PnP 20 Kit
Size: 20 × 113 (±0.5)mm
Material: Stainless Steel
Power Range: 6~40W
Output Voltage: 3.2~4.2V
Battery: Built-in 1500mAh
Capacity: 2ml
Resistance Range: 0.3~3.0Ω
Coils: Pre-installed PnP-VM3 0.45ohm mesh coil (power range: 25~35W, suggested e-liquid: nicotine≤25mg, suitable for PnP coils, PnP-VM1/PnP RBA excluded)
More information you can see
https://vapesourcing.com/voopoo-pnp-20-22-kit.html
You may also like:
rba exceed grip indonesia