05-30-2020, 03:46 AM
Hi, guys! Welcome to New Product Introduction! I have a question: do you need a
Pod Kit
at present? Today let me introduce you one pod kit named
Original FreeMax Autopod50 VW Pod Mod Kit
. Now let's take a closer look at the pod kit below.
The Autopod50 VW Box Mod Pod System Vape Starter Kit is the World's First Double Mesh Coil Mod Pod Kit with everything you need for vaping between 15W to 50W. Autopod50 Mod Pod Kit utilizes quality material for comfortable hand feeling and durability. Autopod50 is powered by a 2000mAh built-in battery with Max Output 50W, it comes with a 4ml pod cartridge and two types of coils for options: 0.25ohm AX2 Mesh Coil (30~50W) and 0.5ohm AX2 Mesh Coil (15~35W), all of which can bring you long-lasting vaping experience. As it is famous for the lastest COILTECH 4.0 with military grade SS904L mesh and Tea Fiber Cotton formala, it is able to provide best vaping experience even better than the best sub ohm tanks in the market. According to multiple testing results, the AX2 Mesh Coil has an average life span of 30~40 refillings. What's more, with Type-C 2A fast charging function, it only takes 80 minutes to be fully charged. And it allows you to get vaping details via a screen.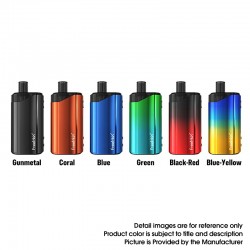 Main Features:
4ml big pod cartridge
2000mAh internal battery with Type-C 2A fast charging
Adjustable wattage from 5W to 50W
Adopts the COILTECH 4.0
Two types of coil: Autopod50 AX2 Mesh Coil 0.25ohm and 0.5ohm
Equipped with military grade SS904L mesh and Tea Fiber Cotton formala
30~40 refilling times for each AX2 Mesh Coil
Designed with a screen to show vaping details
If you want to get one, you can come here:
Original FreeMax Autopod50 VW Pod Mod Kit >>>
Vaping accessories you would like:
3FVAPE - Wick, Wire, Mesh >>>
3FVAPE - Cotton >>>
More Original FreeMax products are available:
3FVAPE - Original FreeMax >>>
-------------------
3% OFF for No Tobacco Day
Time: 29th May 00:00 - 31st May 2020 23:59 (UTC-6 / Denver Time)
Coupon code:3FVAPE2020
Note: This offer is not stackable with other MAP discounts.