12-10-2020, 10:46 AM
Today to introduce the
Smok Rigel Mini Box Mod Kit
. It features single 18650 batteries, fast firing, 80 watts of power, Type-C USB charging, a full-color display screen, This setup is on sale in black/red, silver, black/blue, black, or black/green.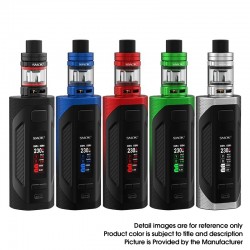 Inheriting RIGELs merits and excellent features while being slimmer and lighter,
RIGEL MINI
can burst with mighty power beyond your expectation. Equipped with a TFV9 MINI tank and a powerhouse up to 80 watts powered by a single external 18650 battery, it will take your personal experience to the next level with an even greater leap on the performance and flavor delivery. The tank comes with a V9 Meshed coil and a V8 Baby Q2 coil aiming at making every puff satisfying and flavorful. Innovation keeps changing the vaping experience.
SMOK RIGEL Mini Mod
:
https://www.3fvape.com/47558-.html
510 threading connection
Size: 34.24 x 24.24 x 88mm
Weight: 62.5g
Output Wattage: 1W~80W
Input Voltage: 3.3V~4.2V
Output Voltage: 1.0V~6.5V
Resistance Range: 0.10ohm~2.50ohm
Standby Current: <100uA
Charging Voltage: 5V +/ 0.2V
Charging Current: 1.4V (Max)
Screen: 0.96-inch TFT Screen
Charging Port: Type-C Port
Compact and Full of Texture
Powered by 1 x 18650 Battery (not included)
Power Range of 1W~80W
Type-C for Hassle-free Fast Charging
Learn More With 0.96-inch TFT Screen
Multiple Protections to Avoid Potential Risks
SMOK TFV9 Mini sub ohm Tank
:
https://www.3fvape.com/47553-.html
Gold-plating 510 Threading connection
Size: 23 x 55.8mm
Weight: 48.5g
Material: Stainless Steel
Capacity: 3.0ml
Coil: V9 Meshed 0.15ohm Coil, V8 Baby Q2 0.6ohm Coil
3.0mL Refillable Tank Capacity
Sliding Top Fill System: Single Fill Port
Upgraded Airflow System
Dual Slotted Bottom Airflow Control Ring
V9 Meshed Coil and V8 Baby Q2 Coil
Free Switching of Desired Flavors
Child-resistant Top Cap for Increased Safety
More details of Smok Rigel Kit, please check >>
https://www.3fvape.com/47534-.html