12-05-2020, 01:52 PM
The
Rincoe Jellybox 228W vape box mod
can provide a variety of sub-ohm experience and high power output. Rincoe Jellybox 228W vape box mod uses a transparent PC shell and a zinc alloy frame to make the entire mod highlight the visual beauty. The inside of the mod and the battery packaging can be seen directly from the outside. The innovative design of
Jellybox
makes it unique. The body size is compact while providing a comfortable grip. The complete control panel has a round fire button, a display screen, and a pair of adjustment buttons. The mod runs on two 18650 batteries (not included) and has an impressive maximum power output of 228W. To access the battery chamber, simply press and lift open the cap on the bottom of the device. And the Jellybox mod implements 5V / 2A quick-charging via the Type-C USB port, so you can spend less time charging. There are 6 LED lights on both sides of the transparent panel of Jellybox, the color of the lights can be changed by changing the UI settings. To turn off the LED light, just press the fire button and the right button together in VW mode.
The
Rincoe Jellybox 228W Jelltank Kit
is combined with Jellybox 228W Mod and Jellytank.
The Rincoe Jellytank is an adjustable translucent tank with a detachable threaded 510 connection. The Jellytank holds 4.8ml capacity and is made of environmentally friendly food-grade PCTG plastic, which has an excellent vaping experience. The built-in proprietary drip tip provides simplicity and comfort. The bottom of the pod has a filling port, unscrew the bottom base, open the white silicone case to fill the e-juice. There is a narrow slot on the thread base to control the incoming airflow. Jellytank features mesh coil 0.15ohm makes the clear flavor and dense cloud.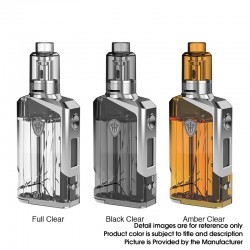 More details of Rincoe Jellybox >>
https://www.3fvape.com/47522-.html
More details of Rincoe Jellbox Jellytank kit >>
https://www.3fvape.com/47515-.html