06-12-2019, 06:54 AM
Hello vapors !
Are you looking for an portable Pod System? This one you must cant miss it -
Lost Vape Lyra
1000mAh 20W Pod System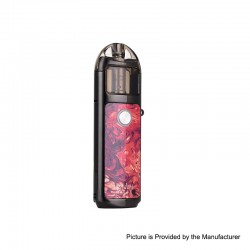 Description:
The
Lost Vape Lyra pod system
, takes a shape that more closely resembles traditional pod systems, with the elegantly designed chassis retaining the amazing build quality that helps make the Orion series so popular. Hidden underneath the gorgeous zinc-aluminum alloy body and striking resin panels is a 1000mAh LiPo battery that works in conjunction with Lost Vape's own pod chipset to pump out up to 20W, more than enough to provide a satisfying vaping experience when used with nicotine salt vape juice. The Lyra is operated through the use of a single oversized firing button which is used to both fire the unit and switch in between the 3 available power levels. Surrounding this switch is an intuitive color changing battery life indicator LED that allows for the current voltage level of the internal LiPo battery to be easily read with a simple glance. Unlike the Orion series, Lost Vape have designed the Lyra around their new Lyra coils, with both 0.6ohm mesh and 1.4ohm MTL variations available. These two coil heads allow for the vaping experience the Lyra provides to be drastically changed from a direct lung hit to a flavorful mouth to lung inhale. The reusable pod the Lyra utilizes is capable of storing up to 2ml of your favorite eliquid and is filled through a conveniently located pair of top fill ports, reducing the potential for leakage.
Get more:
https://www.3fvape.com/pod/38335-authent...14ohm.html