Voopoo
ARGUS
takes mod pod performance and experience to a whole new level. With dual pods of 4.5ml and 2ml capacity, both H-DL and MTL are just right. The long battery life of 1500mAh makes the performance more powerful. 4.5ml/2ml side filling the strong magnetic cartridge, newly upgraded design and manufacturing process, effectively prevent oil leakage, more convenient and hygienic use.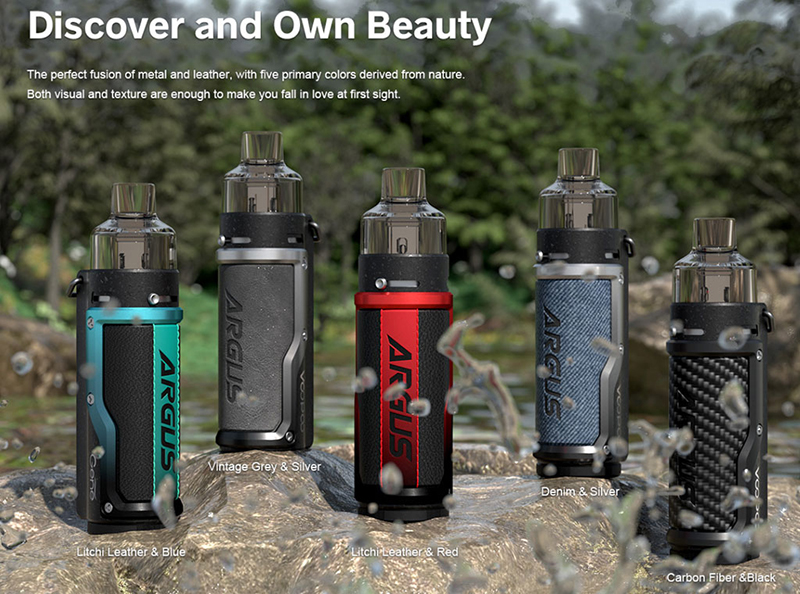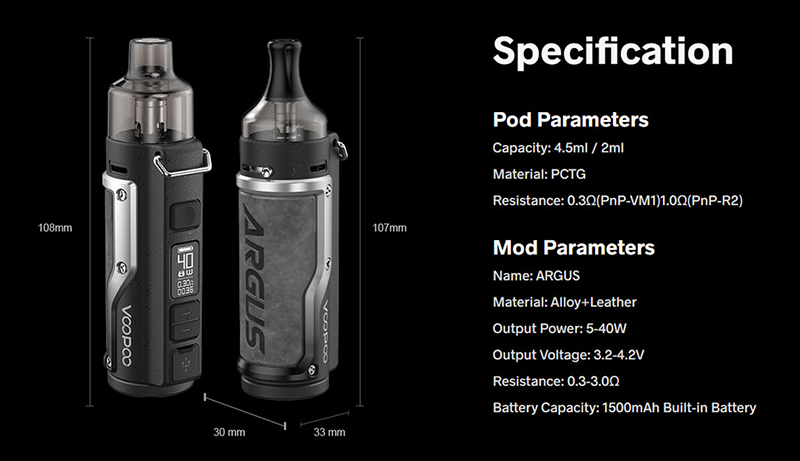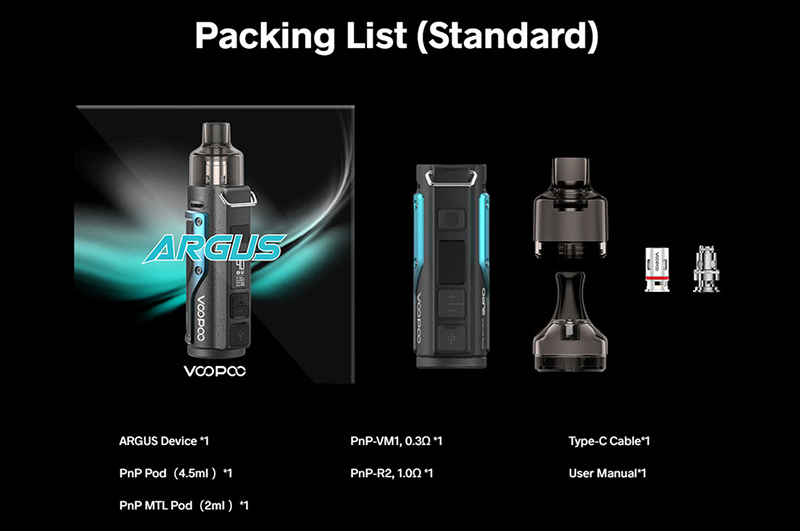 Pod Parameters:
Capacity: 4.5ml / 2ml
Material: PCTG
Resistance: 0.3ohm(PnP-VM1)1.0ohm(PnP-R2)
Mod Parameters:
Name:
ARGUS
Material: Alloy+Leather
Output Power: 5-40W
Output Voltage: 3.2-4.2V
Resistance: 0.3-3.0ohm
Battery Capacity: 1500mAh Built-in Battery
----------------------------------------------------
The
Voopoo
Argus Pro
80W Pod Mod Kit, featuring the GENE.TT Chipset, various output modes, and compatibility with the PnP Coil Series. Hewn from durable zinc-alloy and accented with hints of leather, the
Argus Pro
delivers a great handfeel. Ergonomically fitting within the hand, the
Argus Pro
can be brought around safely using the lanyard attachment point. In addition, the
Argus Pro
can be used in a myriad of modes to safeguard the coil from burning or allowing custom adjustment of the wattage power. At the base is a type-C USB Port for fast charging and firmware updates, while at the top is a magnetic connection for PnP Pod and coils of the MTL or DTL variety.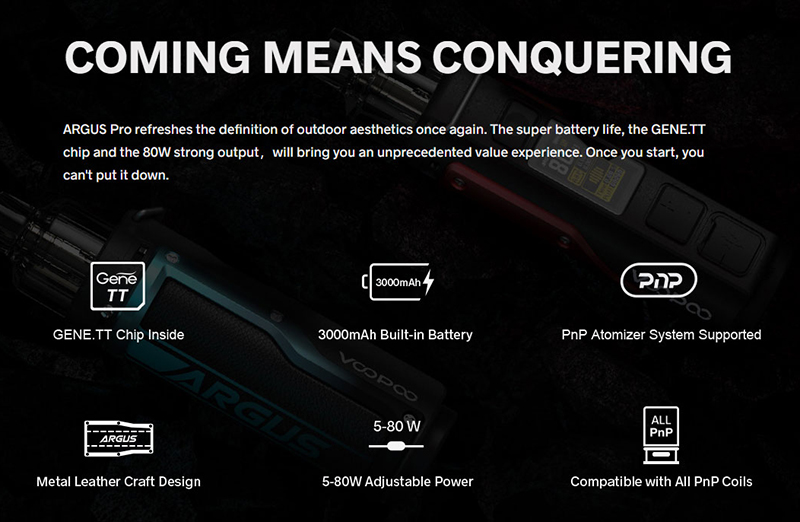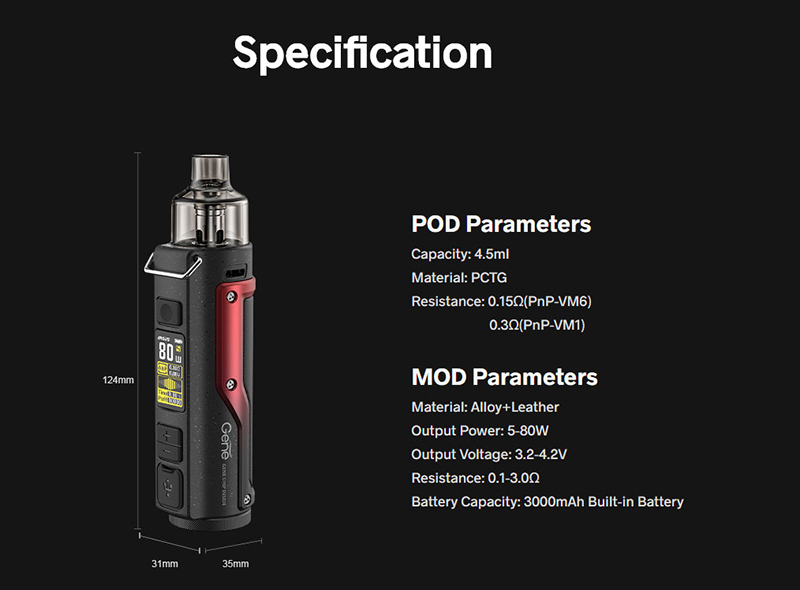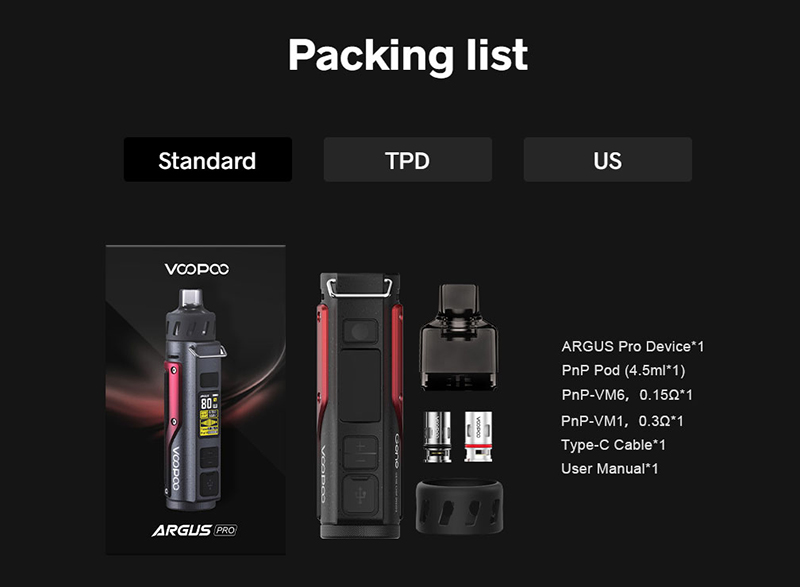 GENE.TT Chipset
Dimensions - 124mm by 35mm by 31mm
Integrated 3000mAh Battery
Wattage Output Range: 5-80W
Voltage Output Range: 3.2-4.2V
Resistance Range: 0.1-3.0ohm
Zinc-Alloy Chassis Construction
OLED Display Screen
Dual Slotted Sliding Airflow Adjustment
4.5mL Argus Pod
Bottom Fill System
Voopoo PnP Coil Series: 0.3ohm PnP-VM1 Coil, 1.0ohm PnP-R1 Coil
2mL Argus MTL Pod
Bottom Fill System
Atomizer Short Circuit Protection
Low Resistance Protection
Output Over-Current Protection
Type-C USB Port
...
Click here for more:
Voopoo Argus Kit:
Voopoo Argus Pod System Kit With PnP Pod Tank 1500mAh 4.5ml
Voopoo Argus Pro Kit:
Voopoo Argus Pro Pod System Kit 3000mAh 4.5ml