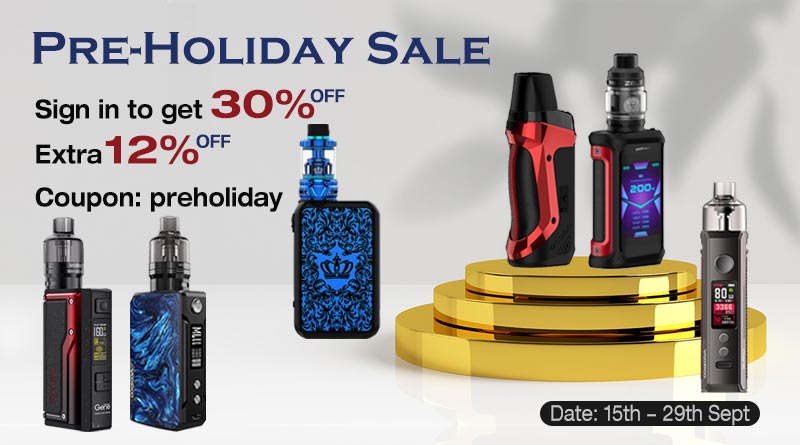 Dear customers,
Here comes our new promotion Pre-Holiday Sale to celebrate the coming National Day in the first week of Oct.
Sign in to get 30% OFF
Old customers? Just sign it direclty to get your final price dropped over 30%.
New customers? It doesn't matter, you can register a new account to get the same discount price.
Tips:
*For e-liquid products, we have set the price ultra low directly, so there is no price change when you login;
*For DOVPO products, we need to follow the manufacturer's pricing policy, so there is no price change when you login.
Extra 12% OFF
Price dropped 30% is not the end, we also created a 12% OFF discount coupon code for you to save more. Here is the coupon info:
Coupon code: preholiday
Date: 15th – 29th Sept 2020
*Retail ONLY and the products in
$1 Flash Sale
are excluded.
Vape Deal Links
Here are some useful links where you can find our best deals:
*
Weekly Sale
– Best price for new hot vapes with
20% OFF Coupon: WSHC
, products on this page will be updated on every Tuesday.
*
$1 Flash Sale
– Ultimate cheap vapes, but the products in this page cannot use this 12% OFF coupon.
*
Clearance
– Extremely cheap vapes!
*
Best Sellers
– Best vapes that every vaper is shopping.
*
Coupon codes
– Find other coupon codes.
*
Giveaway
– Win free vapes everyday at HealthCabin
With any questions, please feel free to contact us.
Please view the whole
Pre-Holiday Sale – Over 42% OFF
here.