01-16-2020, 08:00 AM
Hi, guys! Welcome to New Product Introduction! I have a question: do you need a
Pod Kit
at present? Today let me introduce you one pod kit named
Original Voopoo Navi VW Pod Kit
. Now let's take a closer look at the pod kit below.
The Voopoo Navi VW Box Mod Pod Triple Airflow System Vape Starter Kit is combining multiple functions in one innovative mod pod device. The excellent performance makes it stand out. The Voopoo Navi is made of premium Zinc Alloy plus diamond dazzle color craft resin panels, beautiful and stylish. Powered by a built-in 1500mAh battery, the Voopoo Navi integrates with the advanced GENE.AI Chip, featuring a wide output range from 5W to 40W. It is worth mentioning that GENE.AI may be the smartest chip in electronic cigarettes, standing out by intelligent coil matching features, PUFF mode, and other functions. Voopoo Navi also comes with a 0.96-inch screen to clearly display vape data. As for the tank, it features a 3.8ml e-juice capacity, easy top refilling, and newly upgraded magnetic oil suction device. The NAVI comes with standard 0.45ohm and 0.6ohm coil, brings you the best experience of smooth flavors and big clouds. It also supports all coils in the PnP series. One of the outstanding features of the Voopoo Navi pod kit is the innovative triple airflow system, with a fixed airway, an adjustable airway, and a pneumatic independent airway three-port. When vaping NAVI, you can choose between airflow start or button start, with three innovative air ports, you can feel the charm of this mouthfeel device regardless of oral or pulmonary suction. In addition, Voopoo Navi Mod Pod Kit by virtue of innovation of independent airway, it's a more accurate air intake mode and more abundant air intake. And it prevents core-burning from occurring due to insufficient gas intake. Seven safety protection brings a safer and more comfortable vape experience.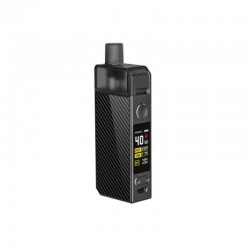 Main Features:
Size: 96 x 33 x 18mm
Material: Zinc Alloy
Battery Type: 1500mAh Built-in Battery
Output Power: 5~40W
Output Voltage: 3.2~4.2V
Resistance: 0.1~3.0ohm
Screen: 0.96-inch screen
Pod Capacity: 3.8ml
Pod Material: PCTG
Coil Resistance: 0.45ohm (PnP-VM3) / 0.6ohm (PnP-VM4)
Resin, Diamond Dazzle color craft fusion as one artwork
Innovative Triple Airflow System
Three innovative air ports bring comfortable mouthfeel
The innovation of independent airway, prevent core burning
Built-in 1500mAh battery with up to 40W output
Smart GENE.AI chip inside, born for flavors
Supports all coils in the PnP series
0.96-inch screen clear shows various vape data
New upgraded magnetic suction tank
Safe and hygienic top filling
Seven Safety Protections for safe and stable vaping
Have you worried about that you not know enough about the product?
Don't worry,this time we present to you the unboxing video.
https://youtu.be/NVyhtlF_z4I
There are seven colors for you to choose, so which color is your favourite? If you want to get one, you can come here:
Original Voopoo Navi VW Pod Kit >>>
Pod Cartridge maybe you need:
3FVAPE - Pod Cartridge >>>
Vaping accessories you would like:
3FVAPE - Wick, Wire, Mesh >>>
3FVAPE - Cotton >>>
More Original Voopoo products are available on 3FVAPE:
3FVAPE - Original Voopoo >>>