02-21-2020, 05:56 AM (This post was last modified: 02-21-2020, 05:57 AM by orange157192.)
Hi, guys! Welcome to New Product Introduction! I have a question: do you need a
RDTA
at present? Today let me introduce you one RDTA named
Original Vandy Vape Mato RDTA with BF Pin
. Now let's take a closer look at the RDTA below.
The Vandy Vape MaTo RDTA combines the best of RDA and RTA and cuts an extremely good figure. As usual with a top coiler, the coiling deck is mounted above the tank, which is of great benefit to the taste. The MaTo is also able to boast dense, compact steam even with moderate battery power from 45 watts.
A real highlight is the airflow system. The tank is designed for DL (Direct Lung), but at the same time the draw resistance is clearly noticeable even with the airflow completely open. Before reaching the coil, the air is guided through 13 small holes on each side and swirled. This technology further intensifies the taste.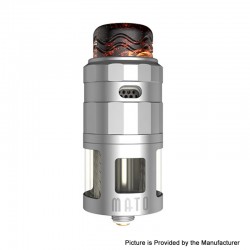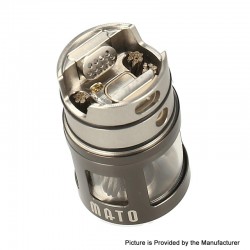 Main Features:
510 threading connection;
Material: stainless steel, heat-resistant PSU;
Dimensions:24 x 54.5mm (including. drip tip) / 24 x 44.6mm (without drip tip)
Deck: Single coil (postless);
Capacity: 5.0ml;
Inhalation method: DL (Direct Lung);
Positive Pin: adjustable;
Very good processing quality;
Excellent taste;
Slightly restrictive draw;
Honeycomb airflow with 13 holes per side;
Dense, compact steam;
Easy to coil;
Large space for up to 6mm thick wires;
Clean filling
With squonker / BF / bottom feeder pin
Outer diameter: 24mm
Have you worried about that you not know enough about the product?
Don't worry,this time we present to you the introduction video.
https://youtu.be/R_HVW3fAx4s
If you want to get one, you can come here:
Original Vandy Vape Mato RDTA with BF Pin >>>
Mechanical Mod maybe you need:
3FVAPE - Mechanical Mod >>>
Vaping accessories you would like:
3FVAPE - Wick, Wire, Mesh >>>
3FVAPE - Cotton >>>
More Original Vandy Vape products are available on 3FVAPE:
3FVAPE - Original Vandy Vape >>>