04-02-2020, 02:19 AM
Hi, guys! Welcome to New Product Introduction! I have a question: do you need a
Pod Kit
at present? Today let me introduce you one pod kit named
Original Augvape Druga 1100mAh Narada Pod Kit
. Now let's take a closer look at the pod kit below.
The Augvape Druga Narada Box Mod Pod Systam Vape Starter Kit is a minimalist designed vaping pod system, which is powered by an 1100mAh rechargeable battery, comes with 2.8ml refillable juice pod capacity, and features a uniquely designed airflow control option. The Augvape Druga Narada presents a sleek and sharp design free of any screens, adjustment buttons, or airflow control rings viewable from the outside. Combined with an incredibly powerful integrated battery clocking in at 1100mAh, the Druga Narada Pod Kit can last throughout prolonged vaping sessions with ease as the Druga Druga Narada is free of features like screens or auxiliary buttons. Airflow for the Druga Narada is inlet via a slotted multihole airflow option but can be restricted by installing airflow inserts directly onto the pod based airflow control system. In addition, the Druga NARADA Pod Kit can hold up to 2.8ml of eJuice or nicotine salts within the confines of the refillable pod. Refills are facilitated by a side fill system stoppered by a silicone plug.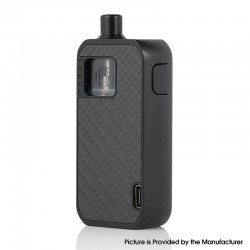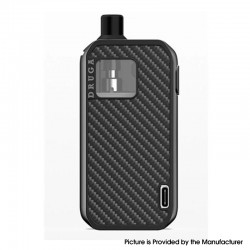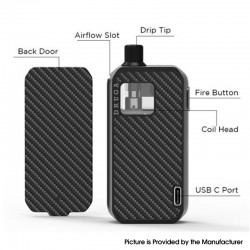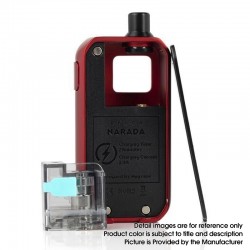 Main Features:
Dimensions: 85 x 37 x 19mm
Battery Type: Integrated 1100mAh Rechargeable Battery
Material: Zinc Alloy + PCTG
Pod Capacity: 2.8ml
Intuitive Firing Button
LED Battery Life Indicator Light
Magnetic Pod Storage Panel
Refillable Pod - Replaceable Cartridge
Side Fill System - Silicone Stoppered
Coil Resistance: 0.5ohm SS316 Coil / 0.6ohm KA Mesh Coils / 1.0ohm RBA Deck (Sold Separately)
Plug 'n' Play Coil Bottom Installation
Adjustable Multi Hole Airflow - Restrictive Airflow Inserts
Snap-In Pod Connection
Micro USB-C Port
There are five colors for you to choose, so which color is your favourite? If you want to get one, you can come here:
Original Augvape Druga 1100mAh Narada Pod Kit >>>
Replacement Coils:
Original Augvape Druga Narada Mod Pod Vape Kit Replacement Mesh Coil Head - 0.6ohm (5 PCS) >>>
Original Augvape Druga Narada Mod Pod Vape Kit Replacement Coil Head - 316SS, 0.5ohm (5 PCS) >>>
RBA Rebuildable Coils with Reck & Pod & 510 Adapter:
Original Augvape Druga Narada Mod Pod Vape Kit Replacement RBA Rebuildable Kanthal Coils with Cartridge & 510 Adapter & RBA Deck >>>
------------
Dear customer,
Due to the Coronavirus affected, we're sorry that shipping time of some products will be delayed.
If you want quick shippment, please choose products with
24HRS
tag which can be shipped in 24 hours after payment confirmed on business day.
Quantity limited, first order gets first! Using the filters to browse/locate products quickly.
Click the links below to enter "Ship in 24hrs" page:
3FVPAE - 24hrs >>>
Tips:
Include products in "Ship in 24hrs" zone in one separated order to get quick shipment. Otherwise your order may wait for other products not in this zone.
Tips For Self-Protection From Covid-19 >>>