10-31-2020, 03:43 AM
Hey, my friends.
How exciting news!
Today we're going to provide some distinguished products which are on sale! Now let's check them now!
1.
[on sale]Vandy Vape Pulse V2 95W Squonk Mod
original price $64.99, now only $39.89(Site-wide Extra 5% off, Using Coupon code:Halloween2020).
The Original Vandy Vape Pulse V2 II 95W TC VW BF Squonk Squeeze Vape Box Mod is the latest in the Pulse line, culminating the best aspects of previous versions, and incorporating the same waterproof technology from the Swell Mod. Weve created an excellent bottom fill system for the bottle, that keeps it locked in place, and directly in line with the 510 to eliminate potential issues with plumbing inside the mod to transfer juice from one side to the other. With refined lines and ergonomics, this Pulse has everything youve been asking for!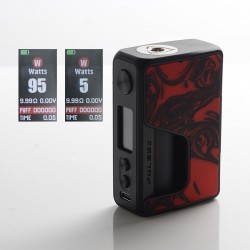 We're sincerely appreciated for your support! We'll provide more products which are low price and high quality!
3FVAPE - Sale Collection, please check:
3FVAPE - Sale >>>
3FVAPE - Price Drop, please check:
3FVAPE - Deal >>>
3FVAPE - Discount and Coupon, please check:
3FVAPE - Coupon & Discount >>>
3FVAPE - Giveaway, please check:
3FVAPE - Giveaway >>>
3FVAPE - Flashsale, please check:
3FVAPE - Flashsale >>>