12-19-2018, 08:12 AM
Guys, today I will show you one newest pod vape kit named
Think Vape Asteroid Pod Vape Kit
, which is a finger-sized pod device for easy carrying. It looks like the Justfog Minifit Vape Pod Kit when you see it at the first sight. So do you think the Think Vape Asteroid Kit can be as popular as the Justfog Minifit?
Think Vape Asteroid Kit is a compact pod vaping device, which comes with a 420mAh battery. It features minimalistic design and ergonomic shape. It is equipped with 1.5ml pod cartridge and 1.6 ohm coils which ensures you a flavorful vape. Think Vape Asteroid Kit added a fire button to start vaping and it also acts as LED indicator to show the battery life.
Parameters
Size: 20 x 13.5 x 85mm
Battery: Built-in 420mAh battery
Juice Capacity: 1.5ml
Coil Resistance: 1.6ohm
Output Voltage: Control board 3.7V constant voltage
Battery life indicator light: <3.5V(0-20%)(Red Light), <3.5V(20-50%)(Blue Light)
Order one now:
https://vapesourcing.com/think-vape-asteroid-kit.html
.
The
Aspire Spryte AIO Vape Kit
is compact and portable brand new vape pod kit with slim appearance. This pod vape kit features an easy to fill 3.5ml pod. What's more, it fits comfortably in the hand and is very discreet! It utilizes Aspire's well known classic BVC coils and comes with a regular 1.8ohm coil and a second one with a green band (1.2ohm) for use with nicotine salts.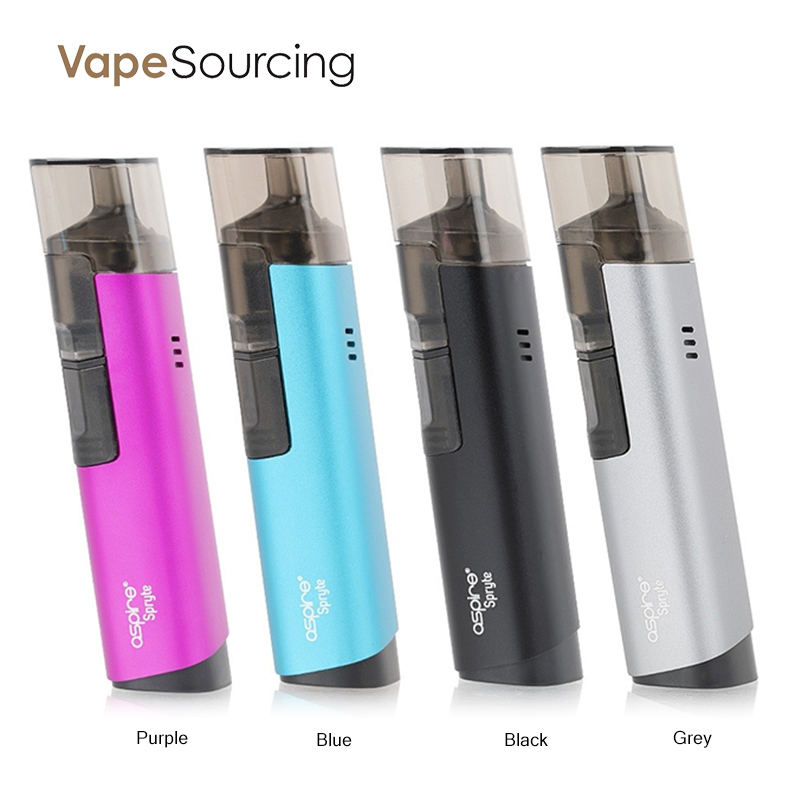 Parameters
Size: 108mm *26mm *26mm
Pod Capacity:3.5/2.0ml
Battery Capacity: Built-In 650mah Battery
Output Wattage: 1-12W
Buy one now:
https://vapesourcing.com/aspire-spryte-a...50mah.html
.