08-09-2019, 05:50 AM (This post was last modified: 08-09-2019, 06:03 AM by orange157192.)
Hi, guys! Welcome to New Product Introduction! I have a question: do you need a new RTA at present? Today let me introduce you one RTA named
Original Augvape Merlin Nano MTL RTA
.
Get more information about Augvape products:
3FVAPE - Augvape >>
More RTAs available on 3FVAPE:
3FVAPE - RTA >>
Now let's take a closer look at the Original Augvape Merlin Nano MTL RTA below.
Augvape presents the Merlin Nano MTL RTA, a 18mm rebuildable tank atomizer with 2ml e-liquid capacity and a smooth mouth to lung draw. The Merlin Nano RTA's build deck features a dual post single terminal build deck and a non-adjustable airflow open located at the base of the RTA which siphons air up through the bottom of the build deck giving the perfect MTL draw every time. For added user customization, an added 3.5ml acrylic tank and 22mm beauty ring is included within the package. Internally, the Merlin Nano RTA features the a dual post single terminal build deck that features an adjustable airflow control system. The airflow can be manipulated via three interchangeable airhole inserts. Each insert measures 7mm by 4mm and has from 1mm to dual 1mm air holes. The terminal measures in at 4mm by 5mm and can accommodate a single coil build configuration. As an added feature, Philip screws are located at the top of each terminal for hassle free coil installations. A unique PEEK chamber encompasses the entire build deck to reduce heat effectively and keep flavor on point.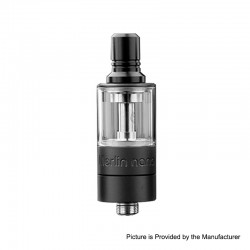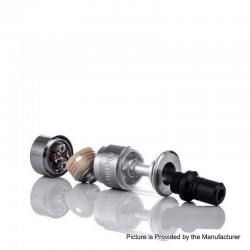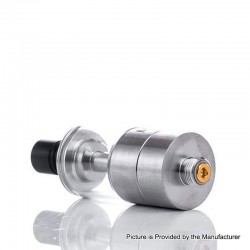 Parameters:
Model: Merlin Nano
Coil Rebuildable: Coil Rebuildable
Material: Stainless Steel
Drip Tip: With Drip Tip
Tank material: Glass
Airflow: Adjustable Airflow
Capacity: 3.5ml
Coil Replaceable: Non-Replaceable Coil
Package: 1 x Merlin Nano MTL, 1 x 22mm Beauty Ring, 1 x 3.5ml Bubble PCTG, 1 x Bag Accessories, 1 x Screwdriver, 1 x Kanthal 1ohm Coil, 1 x Nichrome 0.6ohm Coil, 1 x User Manual, 2 x Airhole Inserts (Diameter 1.2mm / 2mm)
Weight: 40g (1.41oz)
Diameter: 18mm (0.71 inch)
Depth: 18mm (0.71 inch)
Height: 55.8mm (2.2 inch)
Width: 18mm (0.71 inch)
There are three colors for you to choose, so which color is your favourite? If you want to get one, you can come here:
Original Augvape Merlin Nano MTL RTA - Matte Black >>>
Original Augvape Merlin Nano MTL RTA - Gun Metal >>>
Original Augvape Merlin Nano MTL RTA - Matte Silver >>>