02-12-2019, 03:27 AM
Hello everyone.
Today, please let us introduce you to a newly released product.
Original SMOKTech SMOK Mico 26W 700mAh Pod System Starter Kit
$23.99
Let's check some information about the
SMOKTech SMOK Mico Starter Kit
.
In the palm of your hand, MICO is coming for you. It adopts a classic resin design on the device where the unique multicolored fluid lines look like abstract oil paintings, possessing a stylish and elegant high-gloss finish. Powered by a built-in 700mAh lithium battery, MICO is sufficient for you to enjoy vaping all day along. There are two pods included in this kit, one pod with 0.8ohm mesh coil and one pod with 1.0ohm regular coil which can offer superb MTL vaping experience; both of them have 1.7ml capacity, and you can drip your favorite e-liquid into them. Besides, one lanyard is attached in the kit for both decorative purpose and portability. This item also has other color to choose.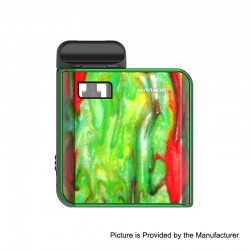 Click here and learn more about SMOKTech SMOK Mico 26W 700mAh Pod System Starter Kit >>>
Register an account on our website and you can enjoy the lowest price of the product.
Other questions regarding this product, just contact us.
Strong Recommend in 3FVape:
Smoktech
Squonk Bottom Feeder Accessories
Squonk Bottom Feeder Atomizer
Squonk Bottom Feeder Mod