11-03-2020, 06:33 AM
Hi, guys! Welcome to New Product Introduction! Today let me introduce you two new
Pod Kit
. Now let's take a closer look at the pod kit below.
1.
OneVape AirMOD SE Pod System Kit
Original OneVape AirMOD SE is one of the most fashionable pod system vape starter kit, for vapers of all experience levels. The super sleek design measures just 13mm thickness it will happily slip into the smallest of pockets. This lightweight pod system weighs only 32g, perfect for on-the-go vaping takes you. Equipped with a built-in 700mAh battery, can support daily use for heavy users. Get rid of frequent charging and focus on your everyday vaping as you want. Quickly fully charge your AirMOD SE in just 60 minutes via the USB Type-C charging port at the bottom of the device. The AirMOD SE has variable wattage from 1W to 25W. It only has one button but it's multifunctional and it has an elegant 0.69" OLED Screen. Set-up and maintenance are quick thanks to the newly designed user interface.
OneVape AirMOD SE Kit
is equipped with DC 0.8ohm MTL Pod cartridge. It holds 3.0ml capacity. The pod cartridge is refillable but you cannot change the coils, because they are built into the replaceable pod cartridge. AirMOD SE Pod cartridge fitted with a 0.8ohm coil, an MTL coil that designed to support mouth to lung vaping. The MTL coil can perfectly restore the flavor and throat-hit by adjusting the degree of flavor restoration. And that's exactly the mouthfeel you want. The AirMOD SE Pod cartridge has two symmetrically distributed air inlets on the top that allow more air to enter, and the pod is firmly held in place by two strong magnets on the base. OneVape AirMOD SE is also compatible with SMOK Nfix Pod cartridge.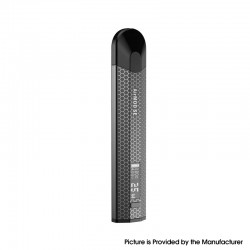 2.
OVNS Saber III Pod System Kit
Original
OVNS Saber III Pod System
Vape Starter Kit is powered by 700mAh built-in battery with maximum 25W output. Equipped with OLED Screen to display the vaping data clearly. OVNS Saber III Pod Cartridge holds 2.5ml capacity, adopts airflow adjustment which comes with two coils. OVNS Saber III Pod System vape starter Kit charged by Type-C port for fast charging, only 40 mins for fully charged. Supports both button and pneumatic start modes, and either mode will give you plenty of cloud experience.