09-07-2020, 07:20 AM
Hey, guys. We are glad to introduce you a
vape pod
released by Ukeri: Brave Kit.
Ukeri Brave Pod System Kit 40W
is a lightweight and smart all-in-one device with a smooth and integrated body, compact structure, and unique integrated mouthpiece design. Powered by a 1500mAh built-in battery, it can provide a long-lasting vaping experience, and max output power can be up to 40W, which can provide a powerful vaping effect for you. There is a large intuitive activation button on the control surface, a TFT screen, a pair of adjustment buttons, and the Micro USB port at the bottom. The Ukeri Brave Pod System Vape Kit integrates a refillable pod with a capacity of 3.5ml. It can be easily refilled with juice through the filling port on the back of the cartridge. And the pod cartridge adopts a transparent design to check the remaining e-liquid. There are air holes on the side of the device, and the adjustment module can be slid up and down to adjust the airflow. You can make appropriate adjustments according to your needs to get comforted with every inhalation. It is compatible with four different types of coils, providing high-quality performance and flavor satisfaction.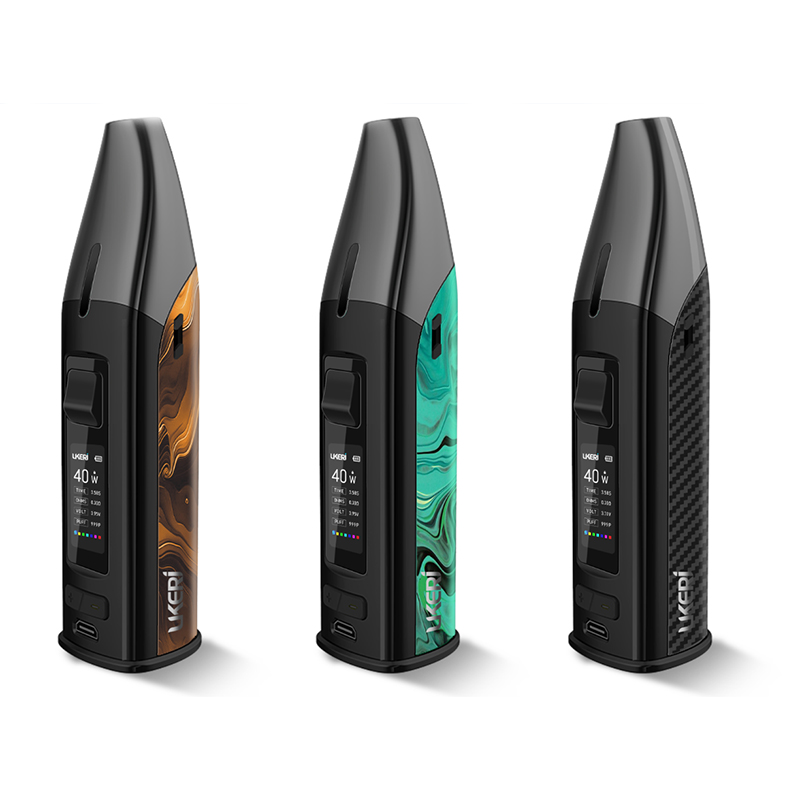 Parameters
Size: 26*26*108.8mm
Battery capacity: 1500mAh
Wattage range: 8-40W
Resistance range: 0.1-3.0ohm
Pod capacity: 3.5ml
Filling type: side filling
Colors: lava, aquamarine, carbon fiber
Shop at:
[Pre-order] Ukeri Brave Pod System Kit 40W 1500mAh
You may also want to review
hellvape dead rabbit se rda
uwell caliburn koko price