Lost Vape Orion DNA GO Starter Kit
2ml 950mAh
The
Lost Vape
Orion DNA Go Vape Pod Kit is the first Pod system device by Lost Vape, made of high quality Abalone Carbon Floer material, ulitizes Evolv's advanced DNA Go chip in a compact size. Powered by a built-in 950mAh rechargeable lithium polymer battery and refillable 2ml cartridge, the Lost Vape Orion Pod Kit available 40W maximum output wattage, supports approximately 400 Puffs to satisfy your daily vaping. The Orion DNA Go Kit comes with Evolv's customizable DNA Go chipset to captures user's "Perfect Puff", featuring an innovative functionality consists of Replay Function and Boost Mod to provides same level of performance & consistency on all subsequent puffs. Besides, the DNA Chip also provents the kits dry hits. With Top Filling design and adjustable airflow control system, the Orion Pod Kit is compatible with MTL and DL Vaping. There is a micro USB port in at the bottom of the Kit for easy recharge. Comes with 8 colors.

Shop now>>
Joyetech eGo AIO Starter Kit
10th Anniversary Edition 1500mAh
Say hello to the new Joyetech eGo AIO Kit which is specially designed for Joyetech 10th Anniversary with pocket-friendly size and elegant design. Consisting of 1500mAh built-in battery and 2ml tank, the Joyetech eGo AIO kit is a compact yet powerful pen style AIO starter kit with anti-leakage TFTA structure, child-lock design and changeable LED lights.
Moreover, the eGo AIO Kit comes with an innovative BF SS316 0.6ohm head for best MTL inhale with stable direct output to provide a great vaping experience of nice taste and vapor clouds. In short, the Joyetech eGo AIO Kit is definitely a simple yet excellent device for starters and experienced vapers. Just get it, the Joyetech eGo AIO will never let you down.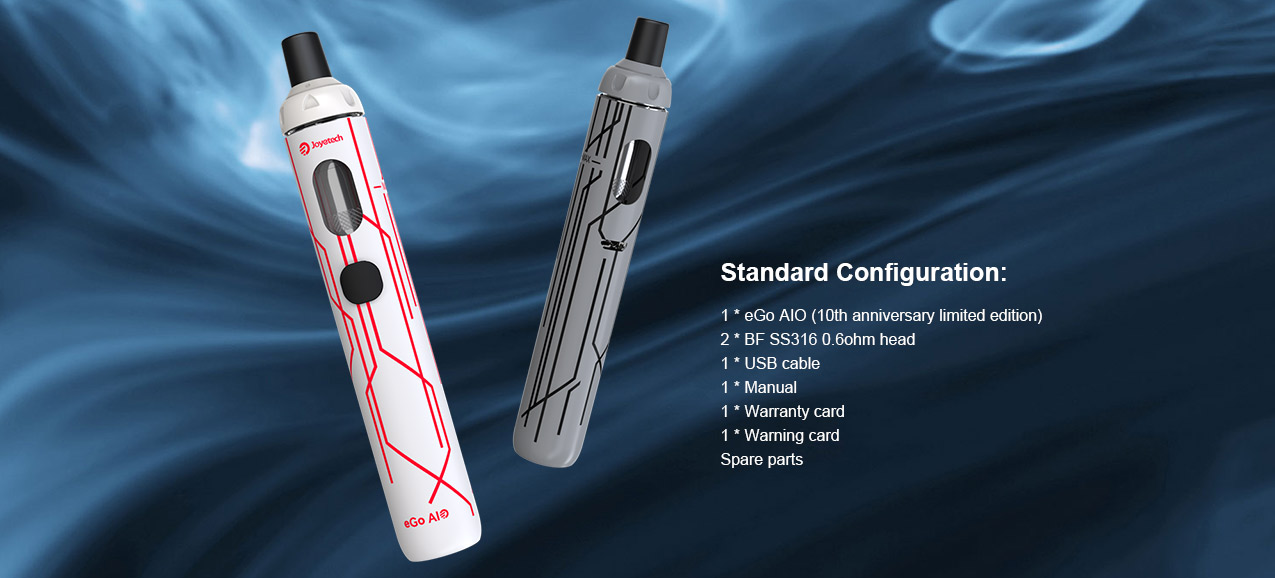 Shop now>>