08-19-2019, 02:18 AM
Aspire Breeze NXT Pod System Kit
1000mAh 5.4ml
Aspire
Breeze NXT Pod System is a well crafted high end vaping pod system, integrating a 1000mAh rechargeable battery, adjustable airflow control ring, and uses proprietary coils constructed exclusively for the Aspire Breeze NXT Pod System to vaporize powerful nicotine salts. Featuring a strong exterior chassis crafted from durable zinc-alloy, a 1000mAh rechargeable battery sits comfortably within. The single firing button can be used to activate the firing mechanism but is also geared with a draw-activated mechanism, unlocking the various ways that the vape can be used. At the top of the Breeze NXT Pod System sits a large capacity juice pod, holding up to 5.4ml of today's most popular eJuice or nicotine salt formulations. Within the refillable pod, a 0.8ohm KA Mesh coil is installed in the bottom, relying on a plug 'n' play connection for easy and fast replacements. Furthermore, the Breeze NXT Pod System features a side airflow, adjustable to allow for the selection of the desired airflow to rush through the internal coil structure to extract and develop the complex flavors from today's most popular eJuice or nicotine salts. Other than that, Aspire Breeze NXT Pod System Kit multiple protections applied, realizing the overall protection of the device, which makes it much securer and more reliable.


Preorder>>
Smok RPM40 Pod Mod System Kit
1500mAh 5ml
Smok
RPM40 Pod Mod Kit is an ultra-portable pod mod that shapes like a cuboid and is covered with glossy finish and characteristic material, making the whole device look fancy and stylish. It is small in size but has a battery capacity of 1500mAh which can ensure enough running time and help you avoid frequent charging, and a power range of 1W-40W for you to adjust, and you can press the UP/DOWN button to get your preferred power. The internal IQ-R chip is a new one, shortening the firing time to 0.001S, and charging time to two hours. Different from normal tiny and slim pod devices, RPM40 is designed with a 0.96-inch screen, with which, detailed vaping data is clearly presented, like the wattage, resistance, voltage, screen color, puff number, and battery level. Besides, the newly designed RPM Mesh 0.4ohm Coil is designed for the best flavor and excellent vapor production. Innovation keeps changing the vaping experience!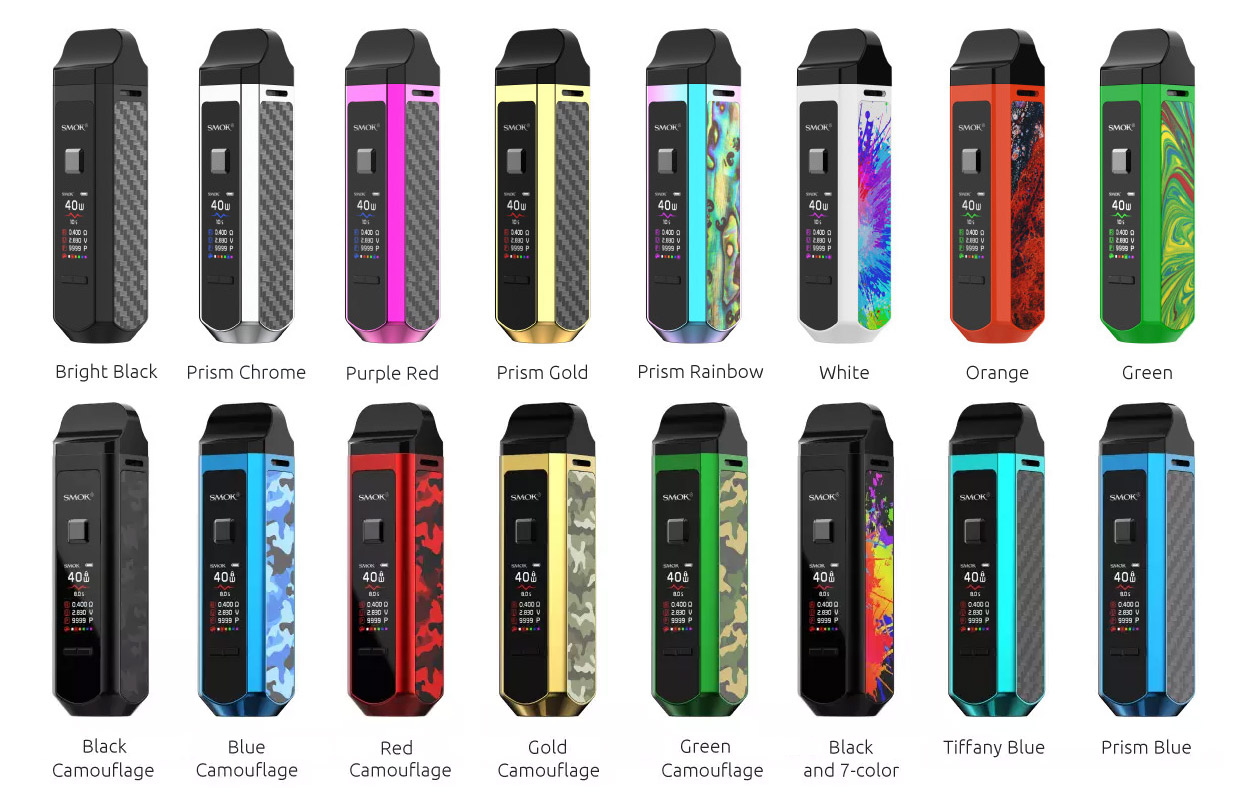 Preorder>>