08-23-2021, 01:27 PM

Check out the
Lost Vape THELEMA QUEST 200W Starter Kit
, which is combined by the
lostvape thelema quest 200W Box Mod
and the UB Pro Tank, featuring dual 18650 batteries, 5-200W output range, and is paired with the UB Pro Pod Tank. Outfitted with the QUEST 2.0 Chipset, the
THELEMA Quest Kit
has an wattage output range of 5-200W and offers a temperature control suite for those that prefer a tailored vapor output. Constructed from durable zinc-alloy, the chassis of the
THELEMA Quest Mod
utilizes PC materials for a transparent battery door for a visually striking look. Paired with the UB Pro Pod Tank, the Lost Vape THELEMA Quest Kit utilizes coils from the UB Pro Coil Series, delivering massive flavor and vapor from your favorite eJuice, holding up to 5mL within the side-filled pod.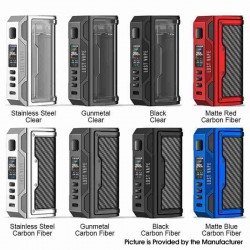 Lost Vape Thelema Quest 200W Box Mod
is available to offer a tremendous range with a maximum wattage output of 200W from dual 18650 batteries. The mod supports 5 intelligent vaping modes, VPC Mode, BYPASS Mode, Wattage Mode, Voltage Mode and Temperature Control Mode (SS904/SS316/Ti/Ni), for infinite possibilities, enjoy the fun of exploring multiple vaping setups. Thelema Quest 200W Box Mod also provides 3 firing modes SOFT, NORM, and HARD to help you to chase the best flavor of your favorite e-liquid.
More details and quick links for the Thelema Quest Kit and Thelema Quest 200W Box Mod as below:
Kit >>
https://www.3fvape.com/51645-lost-vape-thelema-quest-200w-box-mod-kit-with-ub-pro-pod-tank.html
Mod >>
https://www.3fvape.com/51653-lost-vape-thelema-quest-200w-box-mod.html