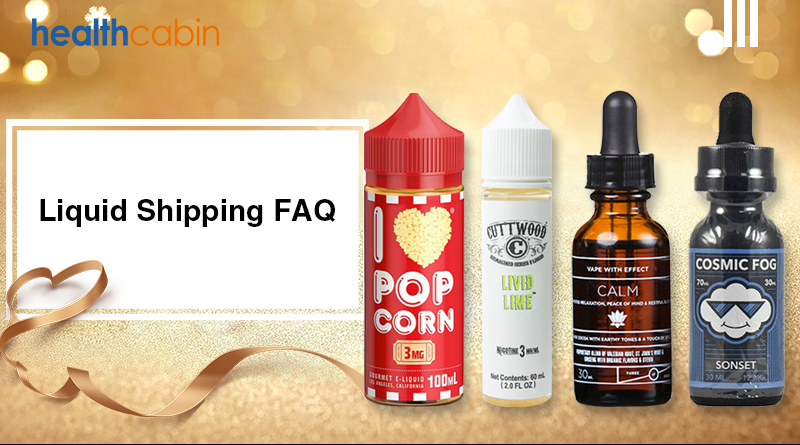 Here comes the FAQ for liquid shipping, please check before ordering any liquid products from
HealthCabin
.
1. Countries we do not ship nicotine eliquid to.
Italy, Finland, Greece, Austria, Portugal,Iceland, Malta, Ukraine, Belgium, Mexico,Turkey, Lithuania, Thailand Vietnam, Singapore, Korea, Cambodia, Myanmar, Bangladesh, The Russian Federation, Armenia, Brunei, Lebanon, Iran, Iraq, Jordan, United Arab Emirates, Egypt, Macedonia, Brazil, Seychelles, Uruguay, Argentina, Saudi Arabia, Azerbaijan, Slovak Republic, Syria, Estonia, Pakistan, Bahrain, Qatar, Croatia,
2. Countries we do not ship flavor & 0mg eliquid to.
Russia, Syria, Iran, Myanmar
3. Can high nicotine strength e-liquid get free shipping?
High nicotine strength e-liquid can't get free shipping, mainly including below products:
Usalt 50mg
Mad Hatter I Love salts 50mg
Unflavored nicotine base – 36mg & 60mg
4. What is Flammable Flavors?
Some flavors are flammable due to their alcohol content or other possibly flammable ingredients within the product. Good news is that vaping flammable flavors is deemed safe. So don't worry, and vape on! Mainly including below flavors:
Raspberry, Ripe Blackcurrant, Orange Soda, Lemon Soda, Cola Soda, Grape, Fresh Watermelon, Crab Apple, Banana, Peach, Malaysia Mango Mix, Menthol, Freshing Pepper Mint, Green Mint, Cheesecake
5. Can Flammable Flavors get free shipping?
Yes, but please make sure you're ordering flammable flavors over 49.99USD.
6. Why I can't get free shipping when orders over $49.9?
A. $49.9
USD
is the discounted price, not included the coupons and points that used by you.
B. Make sure the currency is USD
C. There are high nicotine eliquid in the order
D. There are flammable flavors in the order
7. What's the shipping method for my free shipping order?
Generally we ship liquid free shipping orders via FedEx, it may take 3-7 business days for shipping.
Regular E-liquid & Flavor: FedEx
Liquid Freeshipping: FedEx
Flammable Flavor: DHL/EMS/FedEx
High Nicotine E-Liquid: FedEx
8. Why do I have to pay customs duties?
HealthCabin is not responsible for any custom tax/duties charged by destination country. Please check your local customs' policy before ordering any liquid products.
Please feel free to contact us with any questions. Thanks.