09-15-2020, 06:41 AM
Hi, guys! Welcome to New Product Introduction! I have a question: do you need a
VV & VW Mod
at present? Today let me introduce you one mod named
VOOPOO Argus GT Box Mod 160W
. Now let's take a closer look at the mod below.
The
VOOPOO Argus GT 160W Box Mod
finds inspiration for dynamism and lightness from racing bikes. Using the same zinc alloy and leather process as the racing bike, it's more aesthetically pleasing and 30% lighter than the usual Mod. Argus GT is powered by two external 18650 batteries (not included), in combination with the Type-C fast charging interface, offering you a longer vaping experience in a portable size. Argus GT has a high power output of up to 160W. 5W to 160W adjustable power range, fully meet your different needs. Besides, Argus GT built-in powerful GENE.TT chip that gives it a thick haze in an instant, has the powerful performance of fast ignition and high burst and also provides intelligent functions such as SMART and TC mode. TC mode supports the temperature adjustment of Nickel, Titanium, and Stainless Steel heating wire materials. Just press "+" and "-" at the same time to enter the page adjustment.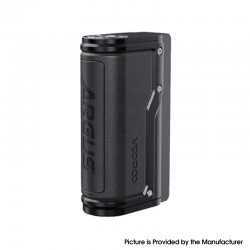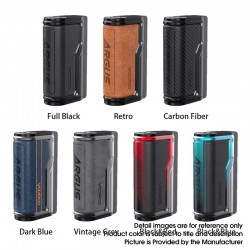 Main Features:
Mod Material: Pu Leather + Zinc Alloy
Powered by 2 x 18650 Batteries (not included)
Output Power: 5~160W
Output Voltage: 6.4~8.4V
Resistance: 0.1~3.0ohm
Features compact, light and durable
Monitored by GENE.TT Chip
Provides intelligent functions such as SMART and TC mode
Adopts innovative infinite airflow system
Supports type-C fast charging
8 safety protections: Overtime Protection, Short-circuit Protection, Overcharge Protection, Output Over-current Protection, Over Discharge Protection, Over-temperature Protection, Battery Reverse Protection, Balance Charge with Different Brand Battery
There are seven colors for you to choose, so which color is your favourite? If you want to get one, you can come here:
VOOPOO Argus GT Box Mod 160W >>>
Mod Kit:
VOOPOO Argus GT vape Kit 160W >>>
Battery you would need:
3FVAPE - Battery >>>