07-13-2020, 06:24 AM
Hi, guys! Welcome to New Product Introduction! I have a question: do you need a
Mod Kit
at present? Today let me introduce you one mod kit named
Original Steam Crave Hadron 220 VW Box Mod + Ragnar RDTA Atomizer Premium Combo Limited Edition Vape Kit
. Now let's take a closer look at the mod kit below.
The Steam Crave Hadron 220 Mod, adopted the innovative YiHi SX480 chipset, is powered by Dual 18650 / 21700 batteries (Not included) with a maximum output power of 220W. The large OLED screen displays pertinent vaping data, including power output, battery life, puff, flavor mode, etc. Detailed and simple user interface. The Hadron 220 Mod is perfect match with Aromamizer Plus, Glaz V2 and other atomizers with diameter from 25mm to 35mm.
The Steam Crave Aromamizer Ragnar RDTA is constructed from Stainless Steel (body) and Glass (tank tube) in 35mm Diameter. The RDTA comes with a postless deck with bottom honeycomb air holes. The smooth airflow system can provide you a medium and high power vaping, which supports 80% side airflow and 20% bottom airflow. As for the chamber reducer, it is actually a deck adaptor, with this adaptor, you can use mesh deck of Aromamizer Plus, and you can also use other decks of Aromamizer Plus like Postless Deck, Series Deck, Velocity Deck, and Single Coil Deck.(Not included) But, we recommend that you choose MESH DECK to get a good vaping experience! The RDTA comes with 22mm wide bore 810 drip tip and a large E-liquid tube of 18ml Capacity. It is worthy to say that Ragnar RDTA is perfect match with HADRON 220 MOD.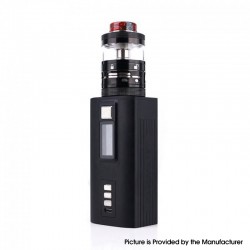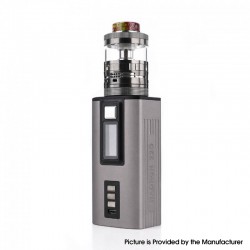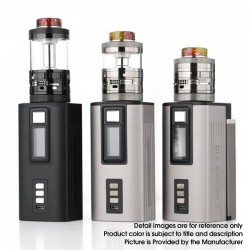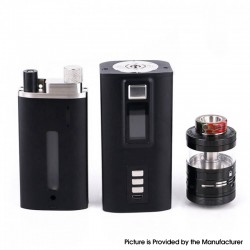 Main Features:
Hadron 220 Mod:
Size: 48 x 99.2 x 38mm
Output: 220W (Max)
Screen: With screen
Working modes: VW / TC
Battery Type: Dual 21700 Batteries (or 2 x 18650 with included sleeves)
Chipset: YiHi SX480 chipset
510 thread connection
Perfect with Aromamizer Plus and Glaz V2
Optional Squonk backpack will come later
Compatible with dual 21700 and 18650 batteries (Not included)
Matched for the atomizer with diameter from 25mm to 35mm
Ragnar RDTA:
Material: Stainless Steel (body) and Glass (tank tube)
Diameter: 35mm
Height: 58mm
Tank Capacity:18ml
22mm 810 wide bore drip tip
Postless deck with bottom honeycomb air holes
Smooth airflow system provide you a medium and high power vaping
Compatible with mesh deck of Aromamizer Plus and other decks of Aromamizer Plus like Postless Deck, Series Deck, Velocity Deck, and Single Coil Deck (Not included)
Perfect match with HADRON 220 MOD
If you want to get one, you can come here:
Original Steam Crave Hadron 220 VW Box Mod + Ragnar RDTA Atomizer Premium Combo Limited Edition Vape Kit >>>
Ragnar RDTA:
Original Steam Crave Aromamizer Ragnar RDTA >>>
Battery you would need:
3FVAPE - Battery >>>
More Original Steam Crave products:
3FVAPE - Original Steam Crave >>>