08-02-2019, 07:38 AM (This post was last modified: 08-02-2019, 07:39 AM by orange157192.)
Hi, guys! Welcome to New Product Introduction! I have a question: do you need a Pod System Kit at present? Today let me introduce you one Kit named
Original SMOKTech SMOK Nord 15W 1100mAh Pod System Starter Kit
.
If you want to get more product news about SMOKTech, you can visit the website below:
Smoktech
The SMOKTech SMOK Nord 15W 1100mAh Pod System Starter Kit is a newly designed button-triggered pod system device. It has 1100mAh battery capacity, extremely large among pod system devices, making it a definitely powerful one. It is equipped with two exclusive coils, Nord Mesh 0.6 coil and Nord regular 1.4 coil, one is perfect to get massive vapor; the other can offer excellent MTL experience. It also has a perfect size for you to hold in hand, a newly added button to start vaping and provide information about battery life, besides, there's an e-liquid window on the pod, all of which are for your convenience.Nord's mouthpiece continues the duck-billed design, but it also has a great improvement, with a lip curve on it, this mouthpiece could perfectly fit your mouth and offer better user experience.Nord has 3ml e-liquid capacity, pretty large for a pod system devices, you can choose your favorite e-liquid to drip in and enjoy long time vaping. There's a LED light on the button, press it twice then red, orange or green light will be on. Red light will on when battery power is lower than 30%; orange light will on when power is between 30% to 70%; and green light will on when power is between 70% to 100%. According to the different light colors you can clearly know the device's battery conditions.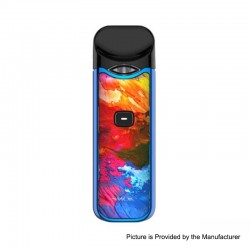 Parameters
Product Type: POD System
Battery Type: Fixed
Battery Capacity: 1100mAh
Coil Rebuildable: No
Drip Tip: With Drip Tip
Charge Style: AC/USB
Coil Replaceable: Yes
Package: 1 x Nord Device, 1 x 0.6ohm Mesh Coil, 1 x 1.4ohm Regular Coil: 1 x USB Cable, 1 x User Manual
Weight: 80g (2.82oz)
Depth: 30mm (1.18 inch)
Height: 94mm (3.7 inch)
Width: 18.8mm (0.74 inch)
Shipping Type: Built-in Battery
There are four colors for you to choose, so which color is your favourite?
If you want to get one, you can come here:
Original SMOKTech SMOK Nord 15W 1100mAh Pod System Starter Kit - 7-Color Spray >>>
Original SMOKTech SMOK Nord 15W 1100mAh Pod System Starter Kit - Brick Red Shell >>>
Original SMOKTech SMOK Nord 15W 1100mAh Pod System Starter Kit - 7-Color Shell >>>
Original SMOKTech SMOK Nord 15W 1100mAh Pod System Starter Kit - 7-Color Oil Painting >>>