01-16-2020, 09:10 AM
Hi, guys! Welcome to New Product Introduction! I have a question: do you need a
Pod Kit
at present? Today let me introduce you one pod kit named
Original SMOKTech SMOK RPM80 Pro 80W Pod Kit with IQ-80 Chip
. Now let's take a closer look at the pod kit below.
The SMOKTech SMOK RPM80 Kit has been upgraded based on RPM40. The RPM80 pod mod Kit is powered by 1 x 18650 Battery (Not included), which is more convenient for daily use. And RPM80 can support the transmission of power output up to 80W, more powerful. It has Variable Wattage / Variable Voltage modes to choose from. Fast charging through the type-c port to keep vape for a long time. What's more, RPM80 Pod is compatible with two types of cartridges, it is also compatible with all RPM40 coils and RPM80 RGC Pod which have innovative RGC RPM Mesh 0.4ohm coil (pre-installed) and RGC conical mesh 0.17ohm coil, providing a more powerful cloud and flavor. And RPM80 is larger than RPM40 in all dimensions but slightly lighter than it. Furthermore, SMOK RPM80 Pod Kit is equipped with a 0.96" color display screen that can provide you all information of this device and features newly developed IQ-80 chipset, which makes it more outstanding.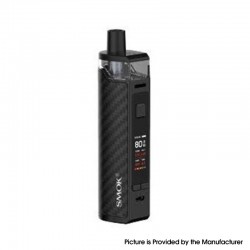 Main Features:
Size: 118 x 31.5 x 26mm
Battery Type: 1 x 18650 Battery (Not included)
Output Wattage: 1~80W
Standby Current: < 200uA
Input Voltage: 3.3~4.2V
Output Voltage: 0.5~8.0V
Charging Voltage: 5V
Charging Current: 1.3A (Max)
Charger Output: 5V / 2A
Output Mode: Watt
Pod Capacity: 5ml
Resistance Range: 0.1~2.5ohm
Coil Type: RPM 0.4ohm Mesh Coil (Pre-installed) / RGC Conical 0.17ohm Mesh Coil
Charging Port: Type-C
Screen: 0.96" Color Display Screen
Have you worried about that you not know enough about the product?
Don't worry,this time we present to you the unboxing video.
https://youtu.be/AAaJNV91O5k
There are seven colors for you to choose, so which color is your favourite? If you want to get one, you can come here:
Original SMOKTech SMOK RPM80 Pro 80W Pod Kit with IQ-80 Chip >>>
Replacement Parts maybe you need:
Original SMOKTech SMOK RPM40 Pod Kit Replacement RBA Coil Head >>>
Original OMEKA RBA Coil Head + 510 Connector Adapter with Airflow Adjustable for SMOK RPM40 40W Pod / Fetch Mini 40W >>>
Original HippoVape VSS RBA Rebuildable Coil Kit V3 for SMOK RPM Pod / SMOK RPM40 /Fetch Mini Vape Kit >>>