10-24-2019, 07:30 AM
Hi, guys! Welcome to
New Product Introduction
! I have a question: do you need a
Atomizer
at present? Today let me introduce you one Atomizer named
Original Aspire Odan Sub Ohm Tank Vape Atomizer
. Now let's take a closer look at the Atomizer below.
The Aspire Odan is a stylish sub-ohm vape tank, stylish design and diamond cutting technology make it look beautiful and refined. A unique Diamond Cut glass on the Odan Tank is combined with a resolute Stainless Steel construction as well as an 810 Honeycomb Resin drip tip, provides stylish and durable style. The heat resistant construction of the resin material offers you a comfortable vaping experience. The polished stainless steel brings Odan a strong metal texture and brightness as well as strong build quality. The machined design of the hardware ensures long use with smooth airflow adjustment. The tank a refined feel whilst the slide open top fill mechanism enables an easy refill which greatly reduces the chance of leakage. The self-sealing coil housing In the Odan Tank means the user won't experience spit backs due to e-liquid being contained in the tank without interference from the chimney. The Odan has a consistent extraction of flavor and is compatible with two separate coil types: a 0.2ohm mesh coil which heats a larger surface area resulting in clear taste and large clouds or a 0.3ohm mesh coil. All these colors consist of Stainless Steel with a toughened Pyrex Glass Tube. This vape tank is compatible with the large majority of mods due to its 510 connection point.
This product is Chinese Version, which comes with manual / Package in Chinese.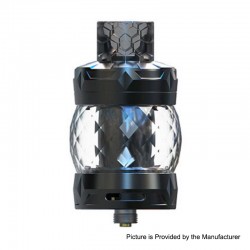 Main Features:
E-Liquid Capacity: 5ml (Diamond) / 7ml (Standard)
Coil Type: 0.2ohm Mesh Coil (50~60W), 0.3ohm Mesh Coil (35~45W)
Very nice and elegant look
Stylish design with diamond cut technology
High polish PVD coating
Enormous vapor and flavor production
Super-efficient wicking materials
80% linen fiber + 20% organic cotton
Excellent low E-liquid consumption
Ingenious self sealing coil housing
Easy top filling
510 Connection
810 honeycomb resin drip tip
There are six colors for you to choose, so which color is your favourite? If you want to get one, buy it on 3FVAPE:
Original Aspire Odan Sub Ohm Tank Vape Atomizer >>>
More Sub Ohm Tank Vape Atomizers are available on 3FVAPE:
3FVAPE - Sub Ohm Tank Vape Atomizers >>>
Mechanical Mods you would like:
3FVAPE - Mechanical Mod >>>
Vaping accessories you would like:
3FVAPE - Wick, Wire, Mesh >>>
3FVAPE - Cotton >>>