09-04-2020, 07:03 AM (This post was last modified: 09-04-2020, 07:06 AM by HealthCabin.)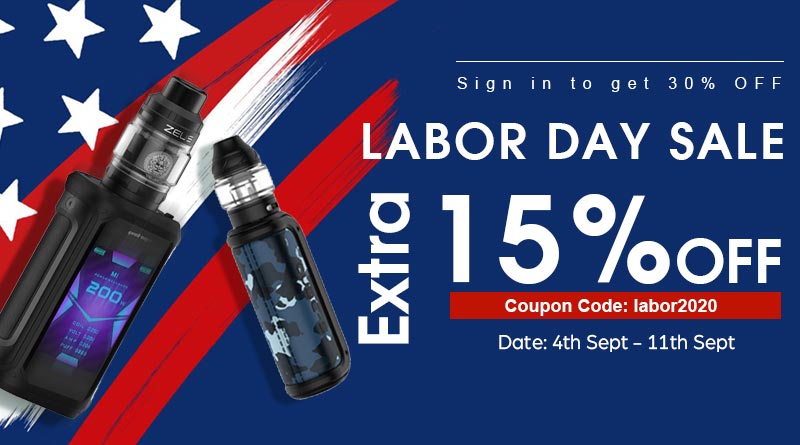 Dear customers,
Happy Labor Day. Thanks for your continuous supports to Healthcabin. We are devoting to offering you the best shopping experience. For celebrating Labor Day, we are happy to introduce you our new promotion Labor Day Sale.
1. Sign in to Get 30% OFF
Old customers? Just sign it direclty to get your final price dropped over 30%.
New customers? It doesn't matter, you can register a new account to get the same discount price.
Tips:
*For e-liquid products, we have set the price ultra low directly, so there is no price change when you login;
*For DOVPO products, we need to follow the manufacturer's pricing policy, so there is no price change when you login.
2. Extra 15% OFF
Price dropped 30% is not the end, we also created a 15% OFF discount coupon code for you to save more. Here is the coupon info:
Coupon code: labor2020
Date: 4th Sept – 11th Sept 2020
Retail ONLY and the products in
$1 Flash Sale
are excluded.
3. Useful Links
Here are some useful links where you can find our best deals:
*
$1 Flash Sale
– Ultimate cheap vapes, but the products in this page cannot use the 15% OFF coupon.
*
Weekly Sale
– Best price for new hot vapes with
25% OFF Coupon:WSHC
, products on this page will be updated on every Tuesday.
*
Clearance
– Extremely cheap vapes!
With any questions, please feel free to contact us.
Originally published at:
https://www.healthcabin.net/blog/labor-day-sale-2020/