04-15-2019, 07:43 AM
Hello everyone.
Today, please let us introduce you to a newly released product.
Original Uwell Blocks 90W Squonk Box Mod + Nunchaku RDA Kit
$58.99
First let's take a look at the product through a unboxing video.
https://youtu.be/fz--mAXyBFQ
Have you ever worried about that you not know enough about the product?
Let's check some information about the
Uwell Blocks 90W Squonk Kit
.
The
Uwell Blocks 90W Squonk Kit
consists of Uwell Blocks Mod and Uwell Nunchaku RDA. This item also has other color to choose.
Mod:
The Uwell Blocks Squonk 90W Mod is a new squonk mod that features a patented juice pump on the top of the mod. Powered by single 18650 battery (NOT INCLUDED), Uwell Blocks supports 90W maximum output. It has a built-in juice bottle with 15ml of capacity. By pressing the top button, the juice will be pumped up to the RDA. The mod also features a juice window for easy checking the juice level. The mod has 0.008s fast firing speed. The leak-proof 510 connector prevents the juice leaking into the mod.
RDA:
The Uwell Nunchaku RDA is a 24mm rebuildable dripping atomizer that comes with a simple build deck for single or dual coils easy building. It has dual airflow for optimal flavor. By using a squonk pin, it is also compatible with Squonk mod.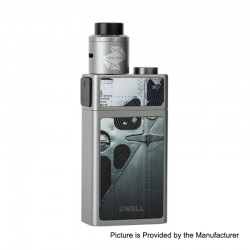 Click here and learn more about Uwell Blocks 90W Squonk Box Mod + Nunchaku RDA Kit >>>
Register an account on our website and you can enjoy the lowest price of the product.
Other questions regarding this product, just contact us.
Strong Recommend in 3FVape:
Uwell
Squonk Bottom Feeder Accessories
Squonk Bottom Feeder Atomizer
Squonk Bottom Feeder Mod