06-23-2020, 10:20 AM (This post was last modified: 06-23-2020, 10:28 AM by Vapesourcing.)
Hey, guys. Today FreeMax released two new
sub ohm tanks
: FreeMax M Pro 2 & Fireluke 3 sub ohm tanks.
FreeMax M Pro 2 Tank
is a new updated version of FreeMax M Pro Tank with upgraded Top-Fill Mechanism and the latest generation of FM COILTECH 4.0 mesh coil technology. The diameter of M Pro 2 Tank is still 25mm, and the tank capacity can fill up to 5ml of your favorite electronic juice. M Pro 2 Tank is still slide-to-open top-fill design but is added with 3 steel balls to increase the friction when slide to open the top cap. FreeMax M Pro 2 Tank is made of resin and stainless steel structure, which is both beautiful and durable. M Pro 2 Tank is compatible with the mesh coil newly made with FreeMax CoilTech 4.0 coil tech, composed of new metal material SS904L and tea fiber cotton for more stable vaping experience and refreshing flavors.
Parameters
Size: L59.85mm*D30mm; 59.85*25mm
Capacity: 3ml/5ml/2ml(TPD)
Filling: Top Filling
Material: SS904L/Tea Fiber Cotton/SS/Resin
Thread: 510
Colors: Blue, Yellow, Red, Black, Orange, Green
Shop at
https://vapesourcing.com/freemax-m-pro-2-tank.html
-------------
FreeMax Fireluke 3 Tank
is a sub-ohm tank made of resin and stainless steel, combining a beautiful look with a sturdy design. The FireLuke 3 Tank features a 5mL maximum eJuice capacity, easily accessible via top-fill for ergonomic access. When compared to the Fireluke 2, the Freemax Fireluke 3 Tank's top cap's design integrates three metal balls to have better friction when accessing the top fill system, preventing accident loosening and leakage. To add vape juice to the 5mL reservoir, push the top cap open from a red mark which exposes an effortless filling port. The replacement glass tube provided with a honeycomb surface designed is exquisite and eye-catching. The key achievement lies within the new updated FireLuke Mesh Coils (904L X1, X2, X3, and X4). The coil tech is also updated to FM COILTECH4.0 with military-grade SS904L mesh material and tea fiber cotton for the ultimate in wicking, saturation and even heating. And it brings more stable vaping experience and refreshes flavors. In combination with the easily adjustable bottom airflow slots, the Fireluke 3 Tank has exquisite vapor production.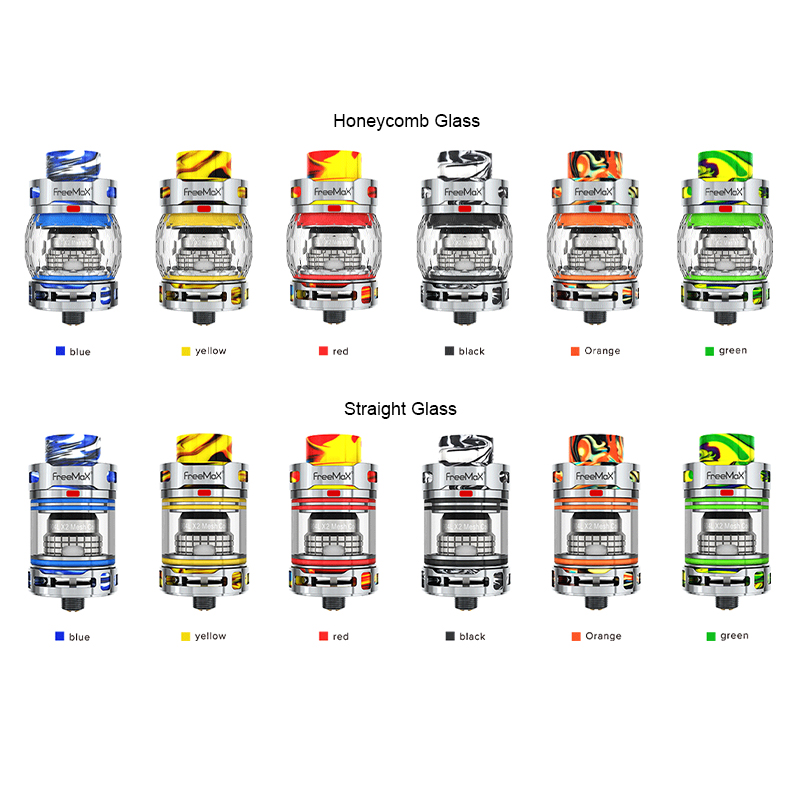 Parameters
Size: L49*D28.2mm(Standard & US Version); 49*25.5mm(TPD)
Capacity: 3ml/5ml/2ml(TPD)
Weight: Around 52g
Working Wattage: 20-90W
Material: SS904L/Tea Fiber Cotton/SS/Resin
Thread: 510
Drip Tip: 810
Colors: Blue, Yellow, Red, Black, Orange, Green
By link
https://vapesourcing.com/freemax-fireluke-3-tank.html
Other items you may also want
vapetasia salts
thc tauren max rdta