10-28-2020, 09:55 AM
Hello everyone.
Good news!
2020 Halloween Day is coming soon. 3FVAPE has prepared great discount for you as usual. Let's check it now.
3FVAPE Site-wide 5% OFF for 2020 Halloween
Coupon Code: Halloween2020
Time: 2020-10-30 00:00:00 ~ 2020-11-01 23:59:59 (UTC-7, same time as Denver)
Note: This code is not stackable with other coupon codes.
Today we will recommend some latest best products to you. Let's check it now!
1.
SXK Supbox 70W Box Mod Kit
$82.46(extra 5% off)
The Authentic SXK Supbox 70W Box Mod Kit is built-in SEVO-70 chipset and adopts creative design, compatible with Most accessories for Billet Box and all 510 atomizers within 24mm diameter. Provide more personalized accessories such as battery tube and outside case. Comes with 1.1ohm and 0.6ohm cotton coil for choice. The SXK Supbox 70W Vape Box Mod Kit is using the same chipset as SXK BB 70W Mod kit, which supports VW / TC / By Pass Modes. The SXK Supbox 70W Vape Box Mod Kit supports 5 different Modes: Pod Mode, 510 Tank / RDA Mode, Universal Mode, 18650 Mode, 18350 Mode.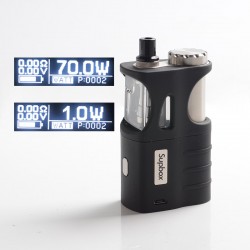 2.
Stratum Balance 60W Box Mod
$52.24(extra 5% off)
The Stratum Balance 60W TC VW Vape Box Mod Clone is made from POM and Stainless Steel and powered by 1 x 18350 / 18650 battery (not included). The Box Mod is Compatible with 24mm diameter vape atomizer. The chip is the same as the Ambition Easy Box Mod and supports max. 60W output.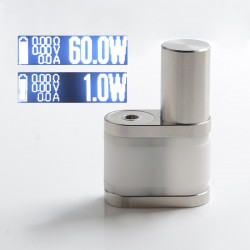 3FVAPE - Price Drop, please check:
3FVAPE - Deal >>>
3FVAPE - Discount and Coupon, please check:
3FVAPE - Coupon & Discount >>>
3FVAPE - Giveaway, please check:
3FVAPE - Giveaway >>>
3FVAPE - Flashsale, please check:
3FVAPE - Flashsale >>>