11-20-2019, 09:12 AM (This post was last modified: 11-20-2019, 09:14 AM by HealthCabin.)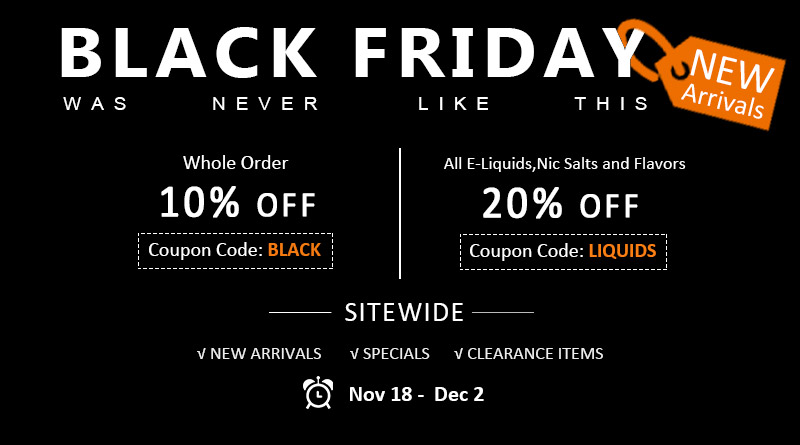 Dear End users
The Black Friday will come soon. Healthcabin thankful for our loyalty customers.We provide
more deals and super hot sale items
.Join our
Balck Friday Deals
now.
1. Up to 40% OFF for your whole order
Log in enjoys the VIP price 30% OFF.
That means after you log in your account, you will directly get the 30% off for every item.
Log in to enjoy VIP price( 30%OFF)+Whole Order 10% OFF=40%OFF
2.20% OFF for All E-liquid Brands
Good chance to try new vaping juice – you can get 20% OFF for
all vaping eJuice
and components for eJuice DIY, including Concentrated flavour, PG/VG, Unflavored based for below brands by using coupon code: LIQUID20
Date:18 Nov- 2 Dec
3.Weekly Sale Up To 83% Sale
We choose a lot of new arrivals and hot vape kits for the vapors to enjoy as the best price on
weekly sale
.
Caliburn Koko
As Low As 16.55 USD (Sigh in to Buy Now)
Fush Nano
As Low As 17.73 USD
Date:18 Nov- 24 Nov
4. Free Shipping almost of global.
As usual, you will get Free Shipping:
Hardware part: free shipping on $59.99 or more, ship via DHL/FedEx/UPS/Dedicated Line/E-packet (The liquid products will be excluded)
Liquid part:50%OFF shipping cost on $29.99 or more, free shipping on $49.99 or more, ship via FedEx/EMS/E-packet(Thailand, Turkey, India will be excluded)
Get More Details
5.
Invite Friends Reward Points
HealthCabin now has a new function on our website: Invite Friends Reward Points. Share our link to a new customer who never orders from HealthCabin, you can gain 15% reward points according to his order amounts.
Get More details
6
Free Exchange Gift
Over 49.99 USD could get an exchange gift (
10ml BlackNote
) and Free Shipping. Quantity is limited
Shop now!
Note: coupons for hardware can be used 1 time only, but no limit use for liquid coupon: Liquid20.
Friendly reminder:
1. Add items to your shopping cart in advance
2. $ mentioned in this post stands for USD
3. Orders unpaid after the sale will be cancelled
4. This sale is only for retail customers.
Enjoy the sale and feel free to contact us with any questions.