11-08-2021, 06:47 AM

The
BP Mods Pioneer DotRBA MTL / RDL RBA Tank
is suitable for DotMod dotAIO Mod.
The
Pioneer DotRBA MTL / RDL RBA
Features single coil building and easy to build your coil with the 2 post design.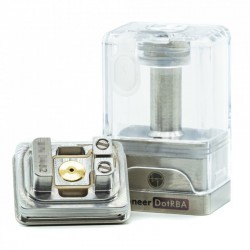 The
Pioneer DotRBA
comes with 7 airflow pins, 0.8 (pre-installed) and 6 other 1.0 / 1.2 / 1.5 / 2.0 / 2.5 / 3.0mm in the package. for MTL / RDL vaping.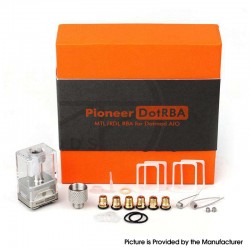 Features:
Easy building, easy wicking.
MTL / RDL flavor on point, and probably be the Dotmod RBA with the most rich and strong flavor you can find on the market.
For dotmod DotAIO
Dual Post Build Deck - 1 Terminal Per Post
Top Secured via Flathead Screws
Single Coil Configuration
Positive Peek Insulation
Interchangeable Airflow Pins
Airflow Pins - 0.8 / 1.0 / 1.2 / 1.5 / 2.0 / 2.5 / 3.0, all in the original package, no need for extra consumption
More details for the
DotAio Pioneer dotRBA
, please check >>
https://www.3fvape.com/53558-bp-mods-pioneer-dotrba-mtl-rdl-rba-tank-for-dotmod-dotaio.html