12-13-2019, 07:52 AM
Hi, guys! Welcome to New Product Introduction! I have a question: do you need a
Mod Kit
at present? Today let me introduce you one mod kit named
Original Innokin Proton Mini Ajax TC VW Box Mod Kit
. Now let's take a closer look at the mod kit below.
The Innokin Proton Mini Ajax TC VW Box Mod Kit consists of TC VW Box Mod and Ajax Tank Atomizer, it is the mini version of Innokin Proton Kits, with the small ergonomically design and comfortable to grip. The Proton Mini Kit comes with one 1.45 inches colorful TFT screen and easy to operate via the joystick and intuitive and full-featured menu system, it can also shows you the vaping data clearly. Furthermore, the Innokin Proton Mini comes with the advanced chipset heats coils nearly instantaneously, the max output wattage can up to 120W, working wattage adjustable can from 6W to 120W, you can adjust the working modes easily for your favorite vaping demands. What's more, the Proton Mini Kit supports temperature control, custom TCR, custom wattage curve, bypass mode and 3 coil memory slots. It is powered by 3400mAh built-in battery that can be charged fast with 2A quick charge system and equipped with safety protections to ensure the charging and vaping reliable. On the other hand, the Innokin Ajax Tank can hold 5ml e-juice, with convenient top e-juice refill design and bottom airflow adjustable slots, compatible with Ajax Coils and Plex3D Matrix Coils. the Plex3D Matrix Coils with the mesh wire inside and covered with organic cotton and the large heating area, which will heat the e-liquid fastly and evenly, delivering the incredible bursts of flavor and cloud of vapor.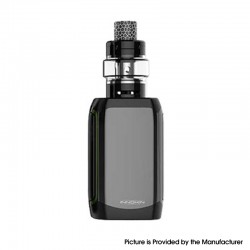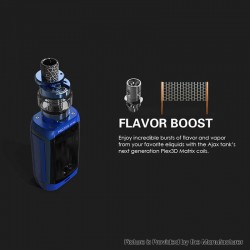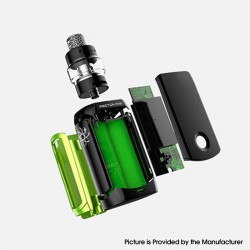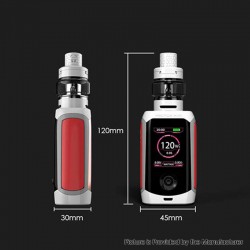 Main Features:
Innokin Proton Mini Mod:
Size: 90 x 45 x 30mm (without Atomizer)
Battery Type: Built-in 3400mAh Battery / 3.7V
Output Power Range: 6~120W
Working Modes: Temp Control / TCR / Wattage Curve / Bypass / Memory
Resistance Range: 0.1~3.5ohm
1.45 Inches Colorful TFT Display
Large Side Firing Button
Max Output Voltage: 7.5V
Max Output Current: 35A
Charging Current: 2.0A
510 Threading Connection
Micro-USB Port Charging
Over-Heat Protection
Over-Discharge Protection
Short Circuit Protection
Innokin AJax Tank Atomizer:
E-Liquid Capacity: 5ml
Coil resistance: 0.16ohm (50~80W) / 0.35ohm (30~55W)
Convenient Top E-Liquid Refill Design
Dual Slotted Bottom Airflow Adjustable
510 Thread
810 Wide-Bore Drip Tip Included
Compatible With Ajax and Plex3D Matrix Coils
Have you ever worried about that you not know enough about the product?
Don't worry,this time we present to you the unboxing video.
https://youtu.be/nfLL78thFbc
There are six colors for you to choose, so which color is your favourite? If you want to get one, you can come here:
Original Innokin Proton Mini Ajax TC VW Box Mod Kit >>>
TC VW Box Mod edition:
Original Innokin Proton Mini Ajax 120W 3400mAh TC VW Box Mod >>>
Vaping accessories you would like:
3FVAPE - Wick, Wire, Mesh >>>
3FVAPE - Cotton >>>
More Original Innokin products are available on 3FVAPE:
3FVAPE - Original Innokin >>>
-------------------
3FVAPE 12-12 Great Sale information
Offer: Site-wide 5% off
Coupon code: 20191212
5% OFF: 11th Dec 2019 00:00 - 15th Dec 2019 23:59 (UTC-6 / Denver Time)
Note: This offer is not stackable with other Vouchers discounts.