07-16-2019, 03:53 AM
Hi, guys! Welcome to Introduction of new product! I have a question: do you need a 177W mod at present? Today let me introduce you one mod named
VOOPOO DRAG 2 Platinum 177W TC Mod
, which can reach up to 177W. Now let's take a closer look at the mod below.
The Platinum Edition of VOOPOO Drag 2 MOD is an upgraded version of the previous Drag 2. Equipped with non-fading and scratch-proof platinum frame,
the Platinum Drag 2
looks much more attractive and durable. Still powered by external dual 18650 batteries (not included), it fires up to a powerful output of 177W. The Drag 2 Platinum MOD adopts the advanced GENE.FIT chip, which is secured by a V0 class fireproofing bridge to block the device from dust, liquid or burnout. And the Platinum Drag 2 has ergonomic design with curve surface and round corners for comfortable hand feeling.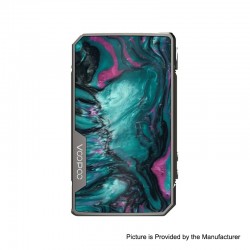 Parameters
Model: Drag 2 Platinum
Product Type: VW
Battery Type: Interchangeable
Compatiable Battery: 18650
Power Output: 5~177W
Material: Zinc Alloy + Resin
Telescoping Mod: No
Thread Type: 510
Variable Voltage (VV): No
Variable Wattage (VW): Yes
Charge Style: AC/USB
Package: 1 x DRAG 2 177W mod, 1 x USB Cable, 1 x GENE Chip Card, 1 x User Manual, 1 x Warranty Card
Weight: 158g (5.57oz)
Depth: 51mm (2.01 inch)
Height: 83mm (3.27 inch)
Width: 26.5mm (1.04 inch)
There are eight colors for you to choose, so which color is your favourite? If you want to get one, you can come here:
https://www.3fvape.com/38928-.html