11-23-2021, 07:25 AM

Ambition Mods and Sun box 2.0 Box Mod
, One of the Best Boro AIO, designed by SUNBOX and produced by
Ambition Mods
.
Ambition Mods and Sun box 2.0 60W AIO Box Mod
is powered by single 18650 battery (not included) with adjustable wattage of 1~60W output.
Ambition Mods 2.0 Box Mod
is equipped with 0.91 inch OLED display on the side.
The
Ambition Mods & Sun Box 2.0 Box Mod
is boro compatible and works with boro tanks and rba bridges for billet box.
Ambition Mods brings this mod in 2 package
package 1 comse with 2.0 Box Mod with
Molen Bridge RBA
/ Boro Tank and package 2 comse with 2.0 Box Mod only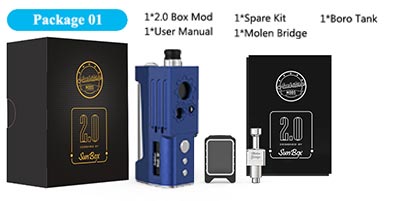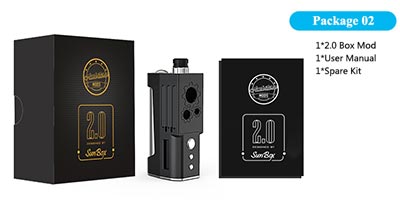 Featurs of 2.0 Box Mod
Material: 316 stainless steel and POM
Battery: single 18650 battery (not included)
Output: 1~60W
Output voltage: 0.5~8.0V
Resistance range: 0.2~3.0ohm
Designed by SUNBOX, produced by
Ambition Mods
Single 18650 battery, max 60W output
Ergonomic design
0.91 inch OLED display on the side
Memory mode
Quick links to get the
SUNBOX 2.0 box mod
and kits as below
2.0 box mod kit with molen & boro tank >>
https://www.3fvape.com/53907-.html
2.0 box mod >>
https://www.3fvape.com/53910-.html