03-28-2019, 08:32 AM (This post was last modified: 03-28-2019, 10:01 AM by Vaporl_Direct.)
Vaporesso Aurora Play Pod Vape Kit - 650mAh & 2ml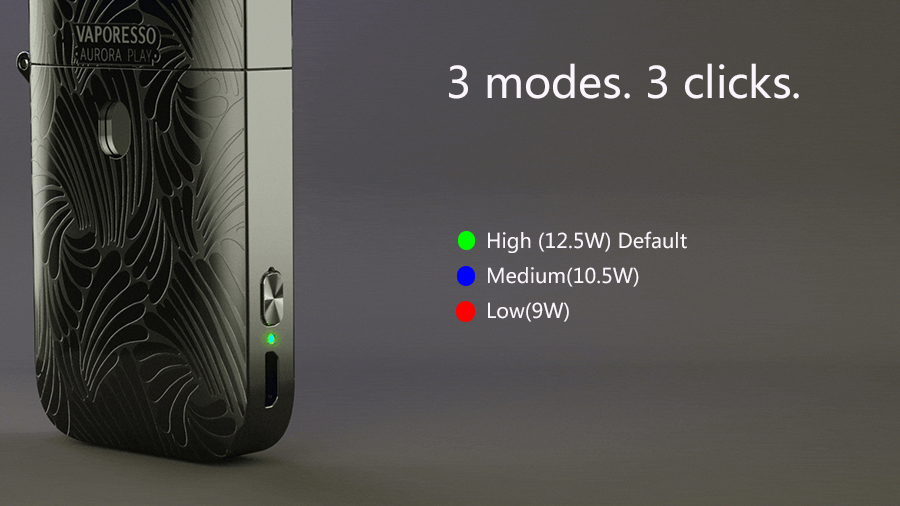 Vaporesso Aurora Play Kit gonna be the black horse in Pod Kit market of 2019. It is a classic lighter shape Pod system which skillfully integrates the lighter and e-cig in a portable unit that reminds me of Zippo lighter. High-end metal craft matches with those delicate curving. Moderate weight and compact size, all these gives a man the original passion of vaping. The 650mAh battery and 2ml standard e-liquid capacity meets your several days vaping and is best for nic salts and CBD coil. Two pods included and features new PTF (Press To Fill) design which decreases the leakage and you can refill the POD freely without taking it off. Just a simple push-out or inserting, you can change the cartridges easily. Thousands of tests witness that you can always enjoy the crisp sounds when opening it and it won't be loose. Aurora Play Pod Vape Kit gonna suits all your needs.
SPECIFICATION:
Dimension: 15.5 x 43.7 x 78.8mm
Refillable tank capacity: 2ml
Built-in Battery: 650mAh
Charging Current: 1A
Power: 9W / 10W / 12.5W
Filling: Pree-to-fill on too (Only 1 step)
Click to shop 
Vaporesso Aurora Kit 
in $21.99 (24% off & extra 17%off code: PF79)
More discounts are available on our official website:
https://www.vaporl.com/ 
With discounts starting at 70%, and flash sales waiting for you!
And get AUTO-SAVE and extra exclusive 17% off to buy most goods with the code: PF79
SMOK Trinity Alpha Pod Vape Kit - 1000mAh & 2.8ml
SMOK Trinity Alpha Alpha Pod is the new open pod system by SMOK featuring one 1000mAh internal battery. It has smart response system, resin decoration panels and unique pod structure. With ergonomically designed power button and push-up-type filling cap, you can easily dip oil inside. Intelligent battery life indicator and three modes: Soft, Norm, Hard, bringing you better vaping pleasure. Besides, it is fit for Nord Coil, one in mesh and another in MTL for different taste and you can choose what you like. It also supports fast charging. A maximum e-liquid capacity of 2.8ml and 6 different brilliant colors for box pod bring you the best choice!
SPECIFICATION:
Size: 91 x 38 x 16mm
Capacity: 2.8ml
Battery: 1000mAh
Material: Zinc Alloy
Output Power:10-25W(Soft/Norm/Hard)
Input Voltage: 3.3-4.2V
Output Voltage: 2.4-6V
Charging Voltage: 5V
Charging Current:0.7A(Max)
Resistance: 0.4-1.4ohm
Color: Bright Black, Prism Chrome, Prism Rainbow, Prism Blue, Red, Prism Gold
Click to shop 
 Trinity Alpha Alpha Pod Vape Kit
 in $20.83 (37% off & extra 17%off code: PF79)

Uwell Caliburn Pod System Vape Kit - 520mAh & 2ml

Uwell Calibure Pod Kit is the first pod kit by Uwell, a simple and comfortable visual feeling with streamlined shape and slim body combining luminum alloy chassis. It is designed to fit your lips and made for salt nic juice with dual-firing method. A independent fire button and air-driven system can serve in the same time. 520mAh built-in battery supports max 11w output. It satisfies all function a market vape pod kit have. The convenient top filling design will surely simplify your vaping. Furthermore, the CALIBURN Pod System possesses and uses the Pro-FOCS flavor technology, recycling drawn airflow through the atomizer core to load the airflow with condensed flavor. A top fill 2mL pod is used to contain today's favorite juice, firing at resistances of 1.4ohms.
SPECIFICATION:
Dimension: 110 x 212 x 116mm
Capacity: 2ml
Battery: 520mAh
Resistance: 1.4ohm
Power: 11W
Color: Grey, Iris Purple, Red, Black, Pink, Blue
Click to shop 
 Caliburn Pod System Vape Kit 
in $18.17 (27%off &extra 17%off code: PF79)